Arts on Sunday for Sunday 16 June 2013
12:43 Percy Fisher and His Fantastic Flying Machine
On 21 June 1913 Percy Fisher successfully launched his monoplane in the Wairarapa. That moment was captured on film and for the 100th year anniversary, the New Zealand Film Archive is screening the newly restored footage of this remarkable flight. To mark the occasion, I spoke to Percy's great grandson, Paul Maxim and NZFA film conservator Reiner Schoenbrunn.


Left: The Fisher Monoplane makes a nicely balanced short flight at Hurunui-orangi, Gladstone, June 21, 1913. From the film "Experimental Flights of the Fisher Monoplane" (1913). Right: Reiner and Paul in the film lab.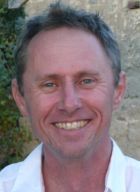 12:48 President of the New Zealand Society of Authors, Kyle Mewburn
The new president of the New Zealand Society of Authors, children's book author Kyle Mewburn (right), reveals his plans to revamp the organisation.
1:10 At The Movies
1:31 Shane Cotton
One of our most successful contemporary artists on the national international scenes, Shane Cotton, talks about a book chronicling his paintings to date, The Hanging Sky; while curator Justin Paton explains Shane's popularity and his own reaction to the work.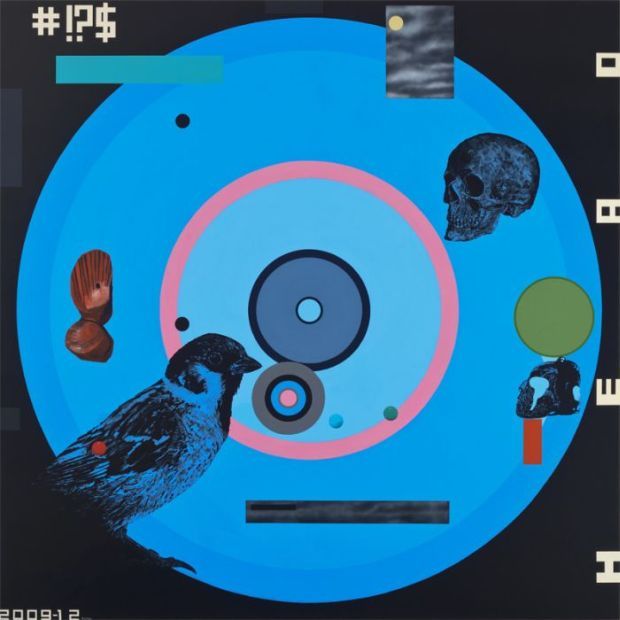 Shane Cotton Head #!?$ 2009–12. Acrylic on linen. Private collection.
1:46 Pitchfork Disney
Seasoned journalist Justin Gregory went to Auckland's Q Theatre to cover the premiere of Pitchfork Disney, and was shocked at what he saw.
2:05 The Laugh Track
Two of the stars of the upcoming touring production of Pirates of Penzance, Helen Medlyn and George Henare, give us an all Gilbert-and-Sullivan extravaganza.
2:26 Sydney Bridge Upside Down
A forgotten novel has been given a new 'theatrical' lease on life. Sydney Bridge Upside Down was written by David Ballantyne in the late 1960s. Set in a tiny New Zealand township, it's described darkly comic, sinister and as an 'overlooked masterpiece'. Taki Rua has brought together actors who've devised a production from the novel. You'll hear from the artistic director James Ascroft and one of the cast, Holly Shanahan.

Taki Rua's production of Sydney Bridge Upside Down.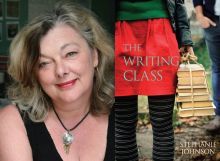 2:36 Writers Stephanie Johnson and Ian Wedde
Today's featured writers are Stephanie Johnson (right), whose latest novel looks at something she knows a lot about - teaching creative writing classes while Ian Wedde's time as Poet Laureate is coming to an end. But as one door closes another opens, he's just been selected for the Berlin writer's residency.
3:05 The Drama Hour
SkyBlue by David Mamea, winner of the Best Dramatic Production Award in the 2013 New Zealand Radio Awards.