Arts on Sunday for Sunday 12 August 2012
12:30 - 2pm
Anthony Goicolea
New York fine arts photographer  Anthony Goicolea (right) is known internationally for his powerful and sinister staged photographic self-portraiture works which explores the realm of coming of age, masculinity, and alienation in which he appears as multiple characters in a single image. He'll be giving workshops as part of Spark – the International Festival of Media, Arts and Design held in Hamilton this week. Image courtesy of Spark.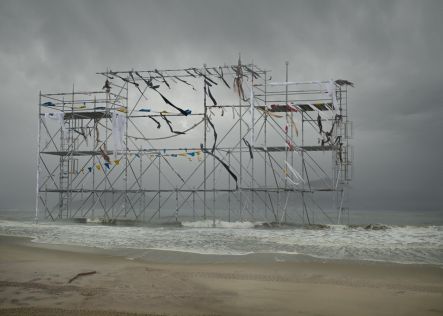 MAST by Anthony Goicolea.
Return to Haiwaiiki: Samoa Friendship Week
This year 2012, marks the 50th anniversary of the signing of the Treaty of Friendship between New Zealand and Samoa which was signed shortly after Samoa gained independence from New Zealand in 1962. A range of events occurred over the week and participating were a team of New Zealand's creative talents. Matthew Faiumu Salapu aka Anonymouz and mixed media visual artist Leanne Clayton  join us to share their experience of the week long festivities.


Left: Anonymouz with NUS students. Right: Leanne and Lonnie.
Three New Zealand contributions to the International Film Festival – The Red House, The Last Dogs of Winter and Song of the Kauri.
National Country Music Awards 2012
What does it take to become a leading light in the country music scene in New Zealand and what kinds of opportunities could be up for grabs for the winner of the National Country Music Awards? We find out more when we chat to some of last night's winners.

2011 National Country Awards Horizon winner Vicki Evans.
Dance review
Raewyn White reviews Shonagh McCullagh's debut work with The New Zealand Dance Company – The Language of Living. 
The Snake Pit
Auckland's Snake Pit is an art space with an uncertain future. And that's just how they like it. Housed in an empty clothing store in the very centre of the city, this three-level hub is home to galleries, studio spaces, clothing designers and an all-ages underground music venue. They've been in operation since the building's owner took a shine to them a year ago and offered them a tenancy on very friendly terms. But at some point this highly commercial space will be re-let and so the end for Snake Pit could come at any moment.  But as artist Sam Thomas and designer sister Rosie tell Justin Gregory, uncertainty is all part of the fun.

Sibling art team Sam and Rosie Thomas, upstairs in the Snake Pit gallery.
2pm The Laugh Track: Andrew London
Andrew Lond's picks are Pat Donohue - Would you rather play guitar?; Blossom Dearie - Bruce; Bill Bailey - Olympics; Tom Rush - The Remember song.
2:20  Theatre Director Geoffrey Hyland
Geoffrey Hyland is a busy man. This year already he's directed All's Well that Ends Well for the Central School of Speech and Drama in London, a Spanish dance version of The House of Bernada Alba for the second largest English arts festival on the world, and Between for The International Dublin Gay Theatre Festival… and now this  award-winning South African theatre director is in New Zealand to direct an Australian play at Toi Whakaari: New Zealand Drama School. We find out where he sees parallels between continents, and ask what it is that he's searching for…
Our Country's Good runs from the 16th August at Toi Whakaari.
2:40 Chapter and Verse
Wellington-based author Catherine Robertson has been writing at breakneck speed. She's just released her second book The Not So Perfect Life of Mo Lawrence only a year after her debut novel, The  Sweet Second Life of Darrell Kincaid hit the New Zealand best seller list last year. It's been a busy two years for this local writer who also heads to The Frankfurt Book Fair in October.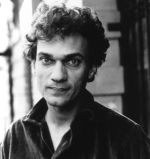 2:50 Michael Hofmann
Michael Hofmann (left) is one of the leading translators and cultural mediators enabling readers all over the English language world to discover German literature in translation. He's won every possible award for literary translation, most recently, the Thornton Wilder Prize worth $20,000 (US), but also the IMPAC award for his translation of Herta Mueller's Land of Green Plums. He plays a unique role in the translation world, with an equal reputation as a poet and a translator, and he is also known as a leading literary critic. He's in new Zealand on invitation from the New Zealand Centre for Literary Translation and Victoria University International institute of Modern letters.
2:55 Theatre review
The Pride @ The  Silo: starring Kip Chapman , Simon London, Dena Kennedy Oliver, and directed by Sophie Roberts.
Philip and Sylvia are caught in a kind of erotic time warp. Their complex love triangle, replete with conflicting loyalties and passions, shifts from 1958 to the present and back again in a maelstrom of fantasy, repression and rebellion.