Arts on Sunday for Sunday 1 May 2011
12:40 Royal New Zealand Ballet's Stravinsky Selection season
Choreographer Russell Kerr and set designer Raymond Boyce, together again five decades after their first ballet collaboration, and their fourth version of Petrouchka.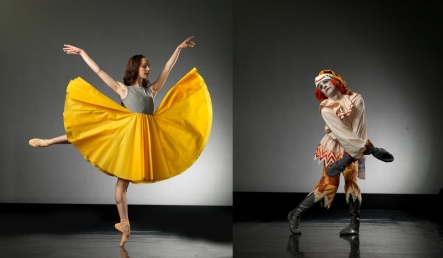 Left:Tonia Looker in Satisfied with Great Success. Right: Medhi Angot in Petrouchka. Photos by Ross Brown.

Russell Kerr in Swan Lake rehearsal 1997.
12:50 The visual arts in Christchurch
Christchurch artist Phillip Trusttum and gallery owner Jonathan Smart on how visual artists are accepting what's been lost and looking to the future, post the earthquake.
1:00 At the Movies with Simon Morris
Simon reviews three rather different feel-good movies - Another Year from English director Mike Leigh; the remake of the eighties hit Arthur starring English comedian Russell Brand and Dame Helen Mirren; and the hit French romantic comedy, Heartbreaker.
1:30 Martin Shaw
A treat for all those Martin Shaw fans out there - whether you remember him as Doyle in The Professionals back in the late '70s-early a'80s, or more recently the suave Judge John Deed or detective George Gently. He talks about his long and diverse career, highlights and lowlights, and being treated like a rock star.
1:45 New Zealand jazz musician and photojournalist Maggie Gould
Maggie Gould gathers together 20 years of award winning portraits of the famous and talented - many of them musicians snapped in concerts around the world.

Maggie Gould.
2:00 The Laugh Track
English comedian and self-confessed fraud and scoundrel Carey Marx (right), who is in New Zealand for the Comedy Festival.
2:20 Da Shi Jie
Found window frames, an Electric Warrior and deconstructed pavilions come together in the building of 'a Great World' when mixed media artist Kerry Ann Lee returns from a residency in Shanghai.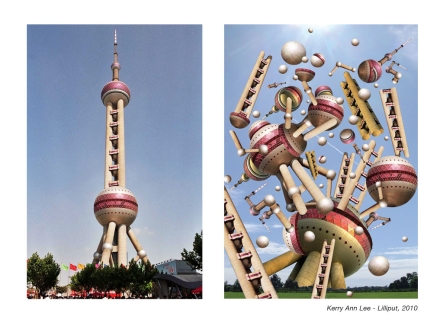 Lilliput by Kerry Ann Lee
2:25 The New Zealand String Quartet
The New Zealand String Quartet is back on the road - with, unusually, a guest vocalist. Margot Hannigan reviews their latest offering.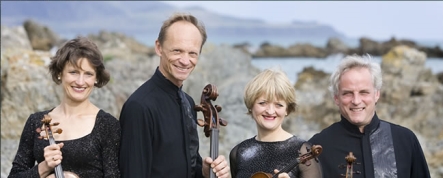 2:30 Chapter & Verse
Our featured writer is Alice Hooten, who invented a word that's the title of her first poetry collection - Shamfeign.
2:40 Faculty of Wonder - Lost and Found
Another story of resilience and determination from Christchurch - Dr Victoria Edwards and Ina Johann lost their studio, their homes were destroyed, but they've found a way to make sure their exhibition Faculty of Wonder - Lost and Found at the Auckland Festival of Photography will go on.

Edwards+Johann: While I, in hugger-mugger hid.
2:55 Mark Houlahan reviews of a show called Dirty Dusting - coming to a venue near you over the next few weeks
3:00 A History of the World in a Hundred Objects (BBC)