Arts on Sunday for Sunday 10 April 2011
12:40 The winner of the country's big playwriting award is announced
12:50 Riverside Drive
The premiere of a screenplay Graeme Tetley turned into a stage play just before his death - Riverside Drive is about to open at the Festival of Colour in Wanaka.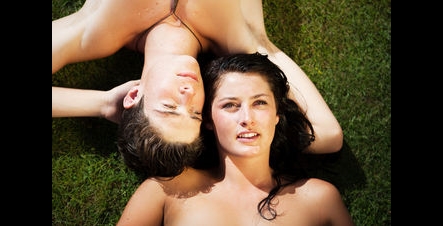 1:00 At the Movies with Simon Morris
A review of the current state of New Zealand films - the good, the bad and The Ferryman…

1:30 Chief Executive of the Ministry of Culture and Heritage, Lewis Holden
Lewis Holden (right) on his crime writing mother, giving up documentary making for Treasury, then taking over as the CEO of the Ministry of Culture and Heritage.
1:45 Mr Jones' Wives
"Mr Jones' Wives" was the name given to the thousands of women who came to New Zealand as the wives of ex-servicemen during and after the Second World War, and is the title of an exhibition about them at the Auckland War Memorial Museum.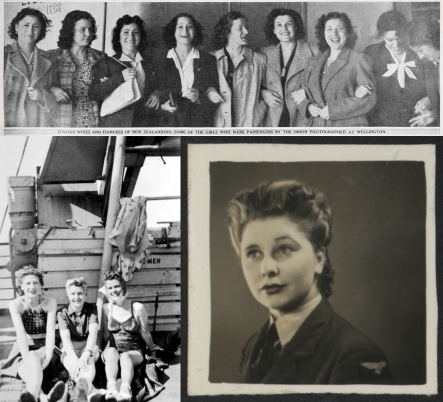 Top: Italian wives and fiancees of New Zealanders. Photographed at Wellington. ©Weekly News 1946. Bottom left: Mary McGreal and friends were photographed on board the Dominion Monarch which arrived in New Zealand in January 1946. They were three of 800 women onboard. Courtesy of the McGreal family. Bottom right: London-born Joyce Williams was married to Royal New Zealand Air Force officer Onslow Thompson in late March 1943. On 1 May 1943, Onslow died when the engines of his mosquito bomber failed during a mission to carry out a raid on a factory.

2:00 The Laugh Track
Director of the International Comedy Festival Scott Blanks (left) introduces this year's stars.

2:20 iD International Emerging Designer Awards
A chat to one of the international judges of the emerging artists awards at the iD Dunedin Fashion show, Australian fashion guru Damien Woolnough (right).
See photographs from the fashion show.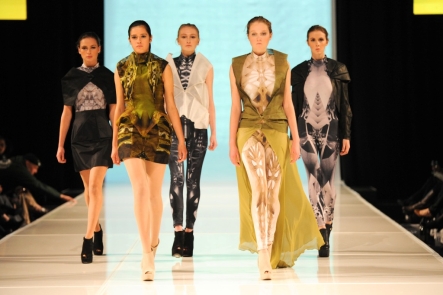 Design by Shenaz Engineer at the iD International Emerging Designer Awards
2:30 Alistair Te Ariki Campbell: Celebration
Peter Coates talks about an exhibition at Pataka in Porirua devoted to the late Alistair Te Ariki Campbell and looking at his importance to this community and to the country.

Alistair Te Ariki Campbell and Sam Hunt.

2:40 Chapter & Verse
A townie who ends up in Easy, a tiny rural - and fictional - township in Otago, in the debut novel by Julie Helean.
2:50 Metropolis Dreaming
Sound artists Joe Banks (UK) and Sam Hamilton (Ak) on their contribution to Auckland Council's Living Room public art project - Metropolis Dreaming.
See images of work by Joe Banks and Sam Hamilton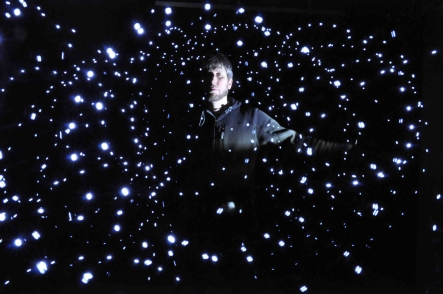 J Banks by P Desai.
3:00 The Sunday Drama
Part two of Student Shorts - three more short plays written by students of RNZ's radio writing workshops.