Arts on Sunday for Sunday 19 December 2010
12:40 Creative New Zealand
New Creative New Zealand funding criteria means more work for arts organisations.
12:50 The Arts Foundation
Private patrons and the artists who love them.
1:00 At The Movies
Simon Morris looks back on the year's films, from the 3D spectaculars like Avatar and Alice in Wonderland, to low-budget thrillers like Buried and Lebanon.
1:30 NZ Film School
We celebrate ten years of the NZ Film School.
1:45 Art of Glass
Is stained glass a dying art? Sonia Yee treks down to the South Island to meet Ginny O'Dea, an artist whose keeping the craft alive.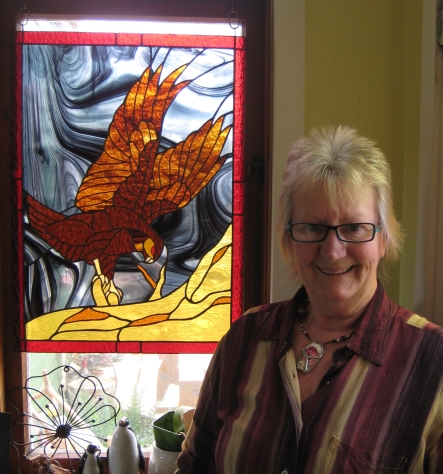 Stained Glass artist Ginny O'Dea.
1:55 Supercity
A new exhibition reveals Auckland through the eyes of music video directors.
Supercity Promo - Timelapse from Film Archive Auckland Office on Vimeo.
2:00 The Laugh Track
Actor, director, teacher and new Arts Laureate Stuart Devenie on the decline of British comedy.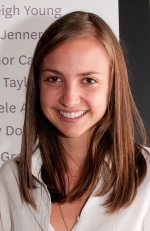 2:30 Adam Foundation Creative Writing Prize
Winner Rayne Cockburn (right) on plans for the future; teacher (and novelist) Damien Wilkins on how to train a writer.
2:40 Mash-ups and Mixes
Shaun Wilson on a new way to integrate art forms and looks at the winners of the recent digital Mix & Mash Competition, including the best open government service, an MP Playing Cards app for iPad.

An Opal Dream Cave, by Jem Yoshioka, winner of the supreme NZ remix.
The sun's beat down, by Jo Eaton & Thomas Scovell, winner of best poem inspired by the New Zealand Poet Laureate.
Daylight, by Thomas Gleeson & Emma Johansson, winner of best alternate music video. Audio track "DayLight" Copyright Robert Scott and Flying Nun Records 2010. Archive footage preserved and made available by Archives New Zealand / Te Rua Mahara o te Kāwanatanga.
2:45 Outrageous Fortune - the exhibition
Robyn Malcolm reviews the exhibition that's all about her.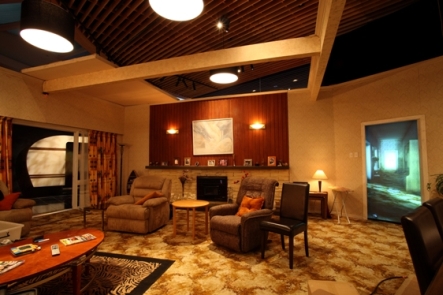 A reproduction of Cheryl West's living room.
3:00 A History of the World in 100 Objects
The story of things that humans have made at different points in the period from the Stone Age to the digital age. (BBC)