Arts on Sunday for Sunday 22 August 2010
12:40 A gathering of artists who're also activists
12:50 A big step forward for Auckland Theatre Company's long held plans for a dedicated home
1:00 At the Movies
Simon Morris wonders what's happening in modern film - citing Step Up 3D, The Collector and Scott Pilgrim Versus the World as prime examples and he compares and contrasts with a blockbuster, Thirties-style - Top Hat, starring Fred Astaire and Ginger Roger.
1:30 Creative families
We continue our occasional series on creative families by bringing together John Drawbridge's silversmith/sculpture wife Tanya Ashken and their sons Tony and Cameron.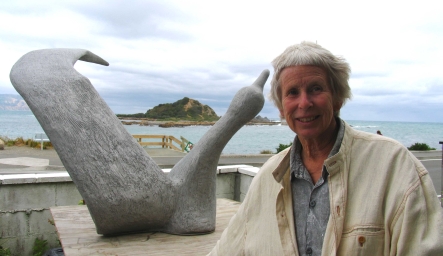 Tanya with Lament of the Albatross (cast aluminium).


Capital Quay by Tony Drawbridge.


Left: South Coast Gallery in Island Bay, right: and Cameron Drawbridge's son Ryco taking a hammer to the Cuba Street gallery.
1:50 Flight of Fancy
Sonia Yee visits a display of artwork created over a five-month period by terminally ill patients at the Mary Potter Hospice Day Unit programme in Kapiti.
Left: Model of a legless kiwi being helped in flight. Right: Silk print. Images courtesy of Marty Potter Hospice.

2:00 The Laugh Track
Busy comedian and inventor Vaughan King (right).
2:20 Theatre meets nanotechnology
Playwright Caroline Lark and director Yvonne Martin on the eve of the premiere of Caroline's first play, Eros, in Christchurch.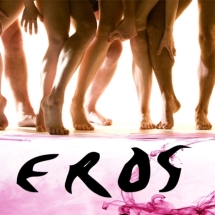 Right: The cast of Eros in rehearsal.
2:30 Chapter & Verse
The last poetry collection by the late Leigh Davis, written during and after he received radiotherapy treatment, and Aucklander Ben Sanders who's published his first novel The Fallen at the age of 20.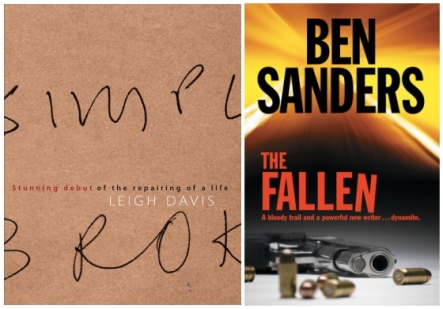 2:50 Jam Radio's Cultural Icons: Dean Buchanan
A chat to artist, environmentalist and mountain climber Dean Buchanan, one of the first artists to be interviewed for a series on Jam Radio's cultural icons series.

Mountains and Rivers by Dean Buchanan
3:00 The Sunday Drama
Austen Found - what's claimed to be a long-lost Jane Austen story put together by improv kings, the Con Artists.