Arts on Sunday for Sunday 9 May 2010
12:40 Artist Andy Leleisi'uao
Andy Leleisi'uao is the first Pacific artist to be awarded the McCahon artist residency in Auckland and he's just returned from China where he's been artist in residence at the Taipei Artist Village.

Carousel of Cryptid Abanimals 4 by Andy Leleisi'uao
12:50 The Marriage of Figaro
Wade Kernot and Emma Pearson are both starring in the NBR New Zealand Opera's latest version of Mozart's Marriage of Figaro, as lovers Figaro and Susanna. They are also husband and wife in real life. So what does the marriage of Wade and Emma bring to The Marriage of Figaro?

Wife and husband, Emma Pearson and Wade Kernot.
1:00 At the Movies
Simon Morris ushers in this year's blockbuster season with Iron Man 2. He also reviews two rather smaller films - New Zealand docudrama Home By Christmas and, from France, The Hedgehog.
1:30 Costume designer Jim Acheson
Three times Oscar winning costume designer, Jim Acheson, on his brilliant career, on how costumes transform actors, and training the next generations of costume designers.
1:40 Legato exhibition
We head to Italy where around 40 New Zealand artists are about to show work they've created about the Battle of Monte Cassino and the world wars, in the biggest Kiwi art event held in Italy.
2:00 The Laugh Track - UK comedienne, Josie Long
2:25 Chapter and Verse
Our featured writer is Paul Millar (pictured below right) talking about his biography of novelist and essayist Bill Pearson - of Fretful Sleepers and Coal Flat fame….while Lucy Orbell goes in search of posters being stuck up around the country aimed at bringing poetry to the masses.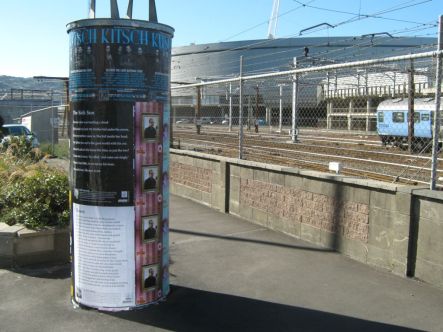 One of Phantom Billstickers many poetry posters on display in Wellington's CBD.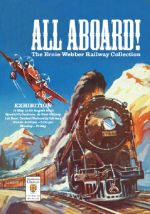 2:50 All Aboard! The Ernie Webber Railway Collection
An exhibition of a fraction of the collection of railway enthusiast Ernie Webber. He travelled the world in search of train blueprints, timetables, books and pretty much anything else he could get his hands on. The exhibition is curated by Donal Kerr, the University of Otago's Special Collections Librarian.
3:00 The Sunday Drama
A chance meeting at their children's kindergarten, leads to an unlikely friendship between two Auckland women. And as they find common ground buried amongst secrets from the past. Alison Bruce and Danielle Cormack feature in Three Degrees by Elspeth Sandys.