Arts on Sunday for Sunday 18 April 2010
Sunday for 18 April, broadcast from Dunedin
12:40 Somebody's Darling
How finding two lonely headstones in Central Otago resulted in a dance work for choreographer Michael Parmenter, and a family connection between his dancer and composer. Somebody's Darling is part of the Footnote Made in New Zealand programme that's about to tour the South Island.

Francis Christeller in Somebody's Darling.

12:50 Natural History New Zealand
The head of Natural History New Zealand, Michael Stedman (right), on how the Dunedin-based documentary makers are taking expanding throughout the world, what's in demand from TV channels and progress on the company's new headquarters.
1:00 At the Movies
Simon Morris goes to three holiday movies - superhero takeoff Kick Ass, a family trip to the Italian city Genova,and Steve Carrell and Tina Fey go on an eventful Date Night.
1:30 You'll hear from Dusty Springfield…
…well, as performed by Greer Morris-Clarke who's playing the role in the New Zealand premiere of the musical about the singing sensation of the 1960s.
1:40 Send No Medals
Looking ahead to ANZAC Day next weekend with a preview of a play called Send No Medals based on the trial, execution and pardon of Private Jack Braithwaite. The play will be performed in Napier later this week.
1:50 The Asian
A chat to artist Heather Straka. She asked dozens of Chinese artists to copy a painting of hers for an exhibition she calls The Asian.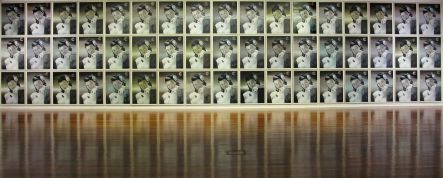 The Heather Straka installation at the Dunedin Public Art Gallery.
2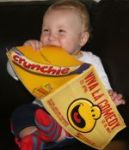 :00 The Laugh Track
New Zealand International Comedy Festival director Scott Blanks previews some of this year's top acts.
Right: Scott Blanks' son Nicholas eating Dad's festival programme.
2:25 Heath Lees reviews the New Zealand Symphony Orchestra's latest concert series with violinist Hilary Hahn

2:30 Chapter and Verse
In conversation with the two writing fellows based at Otago University; novelist Michele Powles and children's writer Karen Trebilcock (left) who you may know better as Ella West.
2:40 Leap of Faith
An exhibition of art and sculpture remembers the many thousands of women in New Zealand and other countries who fell in love with servicemen during World War II. Leap of Faith opens at the Otago Settlers Museum next weekend in time for ANZAC day.
2:50 Artists Simon Kaan and James Voller

3:06 The Sunday Drama
A New Zealand play with the intriguing title Hitler and Me, and we finish the show with the final of The Gullibles.