Arts on Sunday for Sunday 10 May 2009
Arts on Sunday for 10 May 2009
12:40 Photographer Ann Shelton
Ann Shelton looks at the history of the Salvation Army's former Rotoroa Island Drug and Alcohol Rehabilitation Centre.
12:50 Auckland Art Fair
We get an Australian art dealer's perspective on the recent Auckland Art Fair - was it worth the trip?
1:00 At the Movies with Simon Morris
1:30 The Festival of Colour's Pouwhenua project
We find out how four artists came up with wildly different ideas after being shown around Wanaka for the Festival of Colour's Pouwhenua - marks on the land art project.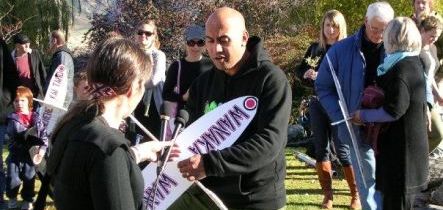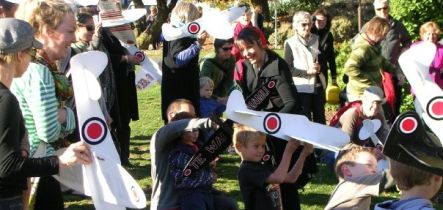 Lynn Freeman at the Festival of Colour in Wanaka. Above, with Michael Tuffery.
1:50 The stand up game
Lucy follows some young comedians wanting to make their name in the stand up game.
2:00 The Laugh Track
Two of the Comediettes, one of the Kiwi acts in the Comedy Festival.
2:30 Pianist Stephen Osborne
Visiting Scottish pianist Stephen Osborne talks about Mozart, the Proms and finding new possibilities in old classics, ahead of his New Zealand tour with the NZSO.
2:30 Chapter and Verse
Relief, a collection of short stories from Wellington writer Anna Taylor and a new novel by Laurence Fearnley - Mother's Day.

2:50 Former gymnast turned performance artist
Alicia Frankovitch, former top gymnast turned performance and video artist, puts her body to the test in her art. Her latest exhibition is about to open at Artspace in Auckland.

3:00 The Sunday Drama
The winner of this year's New Zealand Radio Awards for best Radio Dramatic Production.
Watch this space for the results.