Arts on Sunday for Sunday 14 September 2008
12:40 Lucy Orbell interviews artists in their 70s, 80s and 90s.
Open Eyes Open Minds is an exhibition run in conjunction with Age Concern and profiles four practising artists who all happen to be in their 70s, 80s and 90s. Lucy speaks to two of the show's artists, Michael Nicholson (92) and Anne Munz (78).
The art work below is by textile designer Avis Higgs whose work will be on display at the Open Eyes Open Minds exhibition.
12:55 Review: Walters Art Prize Exhibition
John Hurrell reviews the Walters Art Prize Exhibition, featuring the work of the four artists in line for the award.
1:00 At the Movies with Simon Morris
Simon Morris looks at three contrasting films - Chinese-American co-production Forbidden Kingdom, starring Jackie Chan and Jet Li; French-American thriller Taken; and a little comedy that's all English, the low-budget Son of Rambow.
1:30 Polynation
We meet four of the four performance poets and musicians who make up this group which wowed the recent Queensland Poetry Festival.
Pictured below - some of the people involved in Polynation: from left to right - Tusiata Avia (Director), Selina Tusitala Marsh, Doug Poole (Producer), Karlo Mila.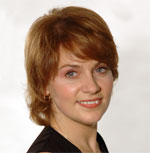 1:40 Jenufi
French soprano Anne Sophie Duprels, star of the NBR New Zealand Opera production of Jenufi.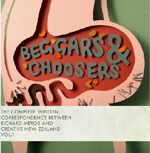 2:00 The Laugh Track:
Richard Meros, writer of the book that's been adapted for the stage, "On the Conditions and Possibilities of Helen Clark Taking Me as a Young Lover", talks about his new release, "Beggars and Choosers: The Complete Written Correspondence Between Richard Meros and Creative New Zealand Volume One" (pictured left), and shares with us his comedy picks.
2:20 New Zealand Fashion Week
Laurie Foon from Starfish and goldsmith artist Dorthe Kristensen have collaborated on the fashion label's winter collection, that will be revealed on Tuesday on the NZ Fashion Week catwalk.
2:30 Writer's Block:
Ian Wedde drops by to discuss his new novel, Chinese Opera, and an interview with Elizabeth Smither who's won the $60,000 2008 Prime Minister's Award for Literary Achievement in Poetry.
2:50 The Devil's Architect
New Zealand is hosting the world premiere of "The Devil's Architect", by Canadian writer, Dolly Reisman, based on Albert Speer, Hitler's "right hand man" and Armaments minister.
Below is a group shot of Devil's Architect - left to right - Jeff Kingsford-Brown; Ken Keys; Keving Keys; Dolly Reisman; Liz Kirkman.


3:00 Radio Drama: The Cairo Trilogy (part two)
Omar Sharif stars in this generational, family saga chronicling the life of a middle class, and downwardly mobile family in an Egypt adjusting to the modern world - dramatised from the novels of Naguib Mahfouz (pictured left), the Nobel Prize winning Egyptian writer who died 30 August 2006 aged 94. Recorded on location in Egypt (Pt 2 of 3, Goldhawk Productions).