Arts on Sunday for Sunday 3 August 2008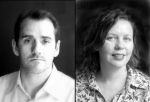 12:40 Ship Songs
Actor Ian Hughes (near right) and director Anna Marbook (far right) take us on three nautical journeys over three different decades in Ian's first solo play, Ship Songs.
12:50 Short Films in New Zealand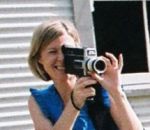 Juliette Verber is in charge of Short Films at the Film Commission and she talks to Simon about New Zealand's many successes in the mini-movie genre overseas. So why don't short films get a fair go in their country of origin.

Picture left: Juliette Verber.
Pictured below: Cast from the short film Take 3.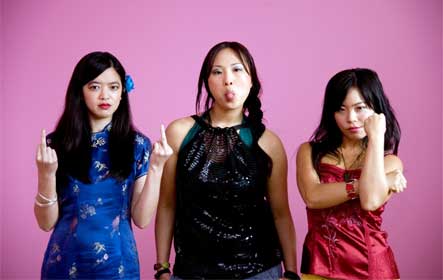 1:00 At the Movies with Simon Morris
Simon Morris talks to American script consultant Wendall Thomas about great movie dialogue. She talks about how a clever script can make all the difference between a good movie and a great one, with examples from Billy Wilder, Woody Allen, the Coen Brothers and Peter Jackson.
1:30 Arts Feel the Pinch
Hawkes Bay Opera has had to cancel its planned season of the Elixor of Love due to poor ticket sales. Is the recession starting to impact on the arts?
Pictured right: Morag McDowell, who was to be the leading lady of Opera Hawke's Bay's cancelled production 'Elixir of Love'.
1:40 Pecha Kucha
Pecha Kucha is Japanese for "chit chat" and Pecha Kucha nights are taking off around the country. The format is simple: take ten artists, ask them to talk about 20 slides, and speak for 20 seconds per slide. Lucy Orbell spent the evening at the most recent Pecha Kucha at the City Gallery in Wellington.
1:50 The Tallis Scholars
A new dimension added to a 500 year old piece of music. (A BBC 'The Ticket' documentary)
2:00 The Laugh Track
Actor and writer, Jo Randerson (pictured left), talks about her comedy influences.
2:20 Luke di Somma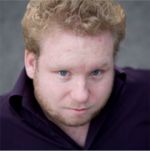 Luke di Somma (pictured right) is only the second New Zealander to be accepted into the Tisch School of Arts Music Theatre writing programme, we find out about his plans to write the great New Zealand Musical Theatre production.
2:30 Writer's Block
Vanda Symon talks about the reappearance of her detective in training, Sam Shephard, in The Ringmaster. David Murphy introduces us to Bullock, a small fictional coastal town where all hell has broken loose in The Life and Death of Laura Friday and of Pavarotti her Parrot.
Pictured below from left: The Ringmaster, Vanda Symon, The Life and Death of Laura Friday, David Murphy.
2:50 New Media Art
Barbara London, from the Museum of Modern Art in New York, talks about 'new media' artists who prefer software to paintbrushes.
3:00 Radio Drama: The Raft by Carl Nixon
In a lakeside settlement on the West Coast, Mark and Tonia retreat to Mark's family bach in a last ditch effort to rescue their troubled marriage. But when Marks estranged parents arrive unannounced, memories flood back and threaten to drown them all.