Arts on Sunday for Sunday 27 July 2008
12:40 Married Life
Ira Sachs (below centre), director of Married Life which is currently on screen around the country at the NZ International Film Festival.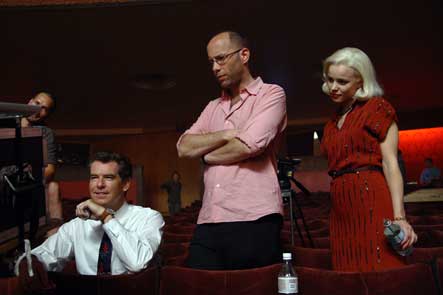 12:50 Black Tuesday
On 12 November 1912, six months into the Waihi miners' strike, Fred Evans, miner, mason, was killed, one of only two fatalities in an industrial dispute in New Zealand's history. We talk to one of the writers and the director of Black Tuesday, a play about the fatal day that changed workers' conditions in New Zealand. Photo from Black Tuesday
1:00 At the Movies with Simon Morris
Simon Morris talks to three independent New Zealand film-makers about doing it themselves. They include Kerry Robins, producer of the phenomenally successful Second Hand Wedding, documentary maker Alister Barry, and digital film director Andrea Bosshard.
1:30 Acting in the US
New Zealand actors are being urged to try their chances in America, and the head of one of LA's biggest acting schools Alan Nusbaum (pictured right), is here to tell them how. Alan S. Nusbaum, founder and CEO of TVI Actors Studio, was formerly a talent agent representing actors including Sandra Bullock, Courtney Cox, Jerry Orbach and Tonya Pinkins.
1:40 Maori Portraiture
Art historian at Victoria University, Roger Blackley (left) who curated the wildly popular exhibition Goldie, is looking at Maori portraiture a hundred years ago in a new show at the Adam Art Gallery. Some of the more romanticised images may look uncomfortably to our 21st century eyes - but should they?
Photo by Robert Cross Image Services VUW.
1:55 The Land Without Sundays
Josie McNaught reviews the premiere of the play The Land Without Sundays, the second in a planned trilogy and currently on at the Maidment Theatre in Auckland.
2:00 The Laugh Track
Thomas Sainsbury is one of the busiest playwrights in the country, and his stories and characters tend towards the dark side of the comedic range. He shares his favourite comedy tracks with us.
2:20 Montana New Zealand Book Awards
Lucy Orbell brings together two of the big winners at this year's awards for a chat.
2:30 Writer's Block
O E Middleton on fifty years of short story writing as many of them are gathered together in one memorable book, and Bob Orr on working on and writing about the sea in his poetry collection Calypso.
Pictured below: Calypso, Bob Orr, Beyond the Breakwater, O E Middleton.

2.55 Man on Wire
A look at, a documentary about a tightrope walk between the Twin Towers which has been described the "artistic crime of the century". (BBC item from The Ticket)
3:00 Southland Art
Peter Belton from the Southland Art Gallery and Museum.
3.20 Radio Drama
The three winners of the RNZ Student radio drama competition.