Arts on Sunday for Sunday 13 April 2008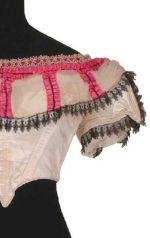 12:40 Feature Interview: Unpicking The Past (Textiles)
An exhibiton of historic costumes at the Nelson Provincial Museum. Including som of the earliest garments worn by women living in Nelson during the settlement of the province.
Visitors will be able to examine the physical makeup of garments and go beyond this to explore elements of the society in which they were created, worn and treasured.
Left: A bodice from the exhibition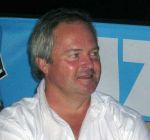 12.50 (Film) Tim Sanders
Dunedin-based freelance movie producer (pictured right).
1:00 At the Movies with Simon Morris
Simon devotes the whole show to a musical inspired by the music of the Beatles. Director Julie Taymor talks about Across The Universe, one of the highlights of the Cinema Showcase. Watch the trailer below.
1:30 Feature Interview: Antarctic Music
Above: The Blue Antarctica (photo by Andris Apse, Asgard Range, Dry Valleys, Antarctica 2004, Photograph 27660.)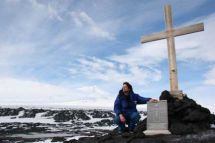 Right: Gareth Farr at Cape Evans (photo by Megan Jenkinson)
Composer Gareth Farr and filmmaker Mike Newman on the audio and visuals they've created for the NZSO's Antarctic concert.
1:45 Feature story by Lucy Orbell (Theatre)
How to Put on a Play...with no money.
Below: A scene from 'Singularity'.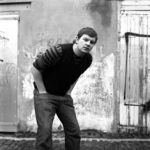 2:00 The Laugh Track (Comedy)
British comedian Al Pitcher
Born in Huddersfield UK, moved to New Zealand (Rotorua) at six and moved back to UK at 26 for his career. Now living in Sweden with his Swedish wife. Al Pitcher (pictured left) is a guest at the upcoming New Zealand International Comedy Festival. he joins us to spin his favourite comedy tracks.
2:20 BBC Feature Interview: New directions for Julie Andrews
2.25: Feature Interview (Opera)
The founder of Opera Hawke's Bay, Naomi Wenley Baker marks its twenty first birthday.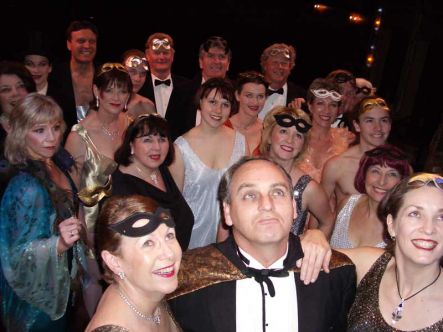 Above: Greg Patel and chorus - from 2007's Opera Hawkes Bay production.
2:30 Writer's Block: (Literature)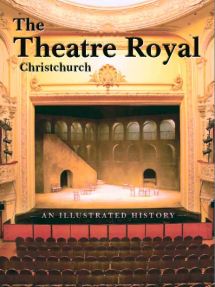 Historian Adrienne Simpson and composer and critic Philip Norman talk about the recently published history of Christchurch's majestic Theatre Royal (cover art pictured above, and Dunedin poet Richard Reeve (below right) about his third collection, In Continents (cover art below left), published by Auckland University Press.

2:50 Vacant Spaces (Painting)
British artist Paul Winstanley bases his large paintings on photographs of vacant spaces.
Below: Paul Wistanley in his London studio.
3:00 Radio Drama: The Brilliant Fassah
The reputation of Tim Spite and his SEEyD company is justified in the innovative and sometimes risky projects they create for the stage. In the radio adaptation of The Brilliant Fassah, Spite and SEEyD utilise the particular creative advantages of radio to push the boundaries of performance possibilities.