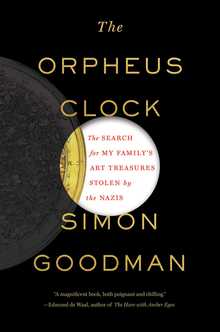 Simon Goodman's Father never talked about the war.
Bernard Goodman dressed the part of a quintessential British gentleman but he actually was part of prominent German banking family with a vast art collection who lost everything in the Holocaust. In a story all too familiar, the Nazis took the family's Degas, Renoirs, Renaissance silver and gold pieces and other artworks. Bernard Goodman never told his sons, but he spent his life trying to get it back. When he died 20 years ago, Simon and his brother took up the challenge.
In his new book The Orpheus Clock: The Search for My Family's Art Treasures Stolen by the Nazis Simon Goodman details the fight and the obstacles put in their way by auction houses, museum directors and unscrupulous art dealers. Simon Goodman is now based in Los Angeles.