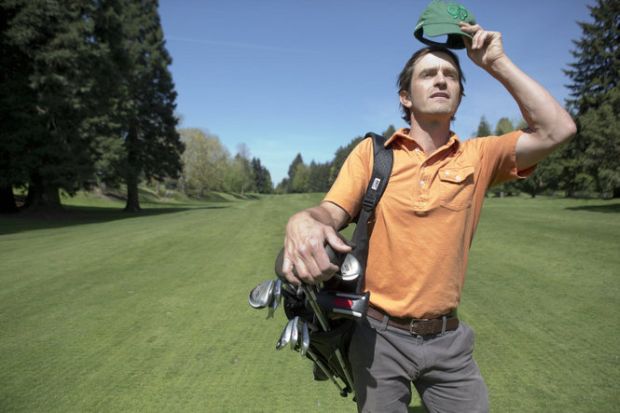 6,003 hours down, 3,997 to go. Dan McLaughlin is on a mission to test the famous theory that holds that you can get good at anything with 10,000 of deliberate practice. Five years ago, Dan quit his day job to practice golf, a game he had never played before. Afternoons spoke with him when he started the journey. He tells Paul Brennan on Afternoons that he's made significant progress. "I've gotten really good. I'd say I'm no Jordan Spieth, who is on fire right now, but I can hold my own on some smaller tournaments." says McLaughlin.
"My goal is to play in a PGA tournament and make the cut. That's what I'm shooting for. I don't have grand expectations of being number one in the world, but if I can play in a tournament and make the cut to me that is beyond success" McLaughlin says. Six thousand hours in, the goal seems attainable.
McLaughlin says more than anything, he now understands just how important the mental game is with this sport. "It is the most mental pursuit outside of chess I've ever attempted" says McLaughlin. "You have enough time between every single shot to think about what you did right and wrong. The best in the world are the ones who are able to forget the mistakes they made."
There have been a few setbacks. A back injury recently has slowed his progress. "Before I got injured, when I hit my stride my best handicap was 2.7. There are 26 million registered golfers in America. 2.7 would put me in the top 5%  That was at the end of last summer. So going from never touching a golf club to the top 5% in 4 1/2 years, I think that kind of proves the point." McLaughlin says. 
He recommends getting a good coach for anyone considering taking up golf and learning the right way from the beginning. "I think no matter what age you start at something, if you have the right coaching and the right work ethic you have the ability to succeed." McLaughlin explains.
Now he's aiming to put in all 10,000 hours by 2018 or 2019.  It's not easy. "Like anything" says McLaughlin, "the better you get the harder it is to get better."