Daniel Kish, blind since the age of 13 months, uses his ears to see.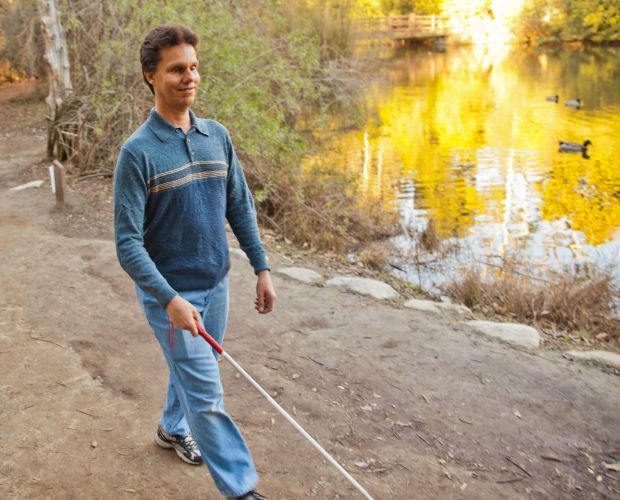 He was born with an aggressive form of cancer called retinoblastoma and both of his eyes were removed. He sees with sound, a type of echolocation used by bats and dolphins, to bounce sound off of objects and form a kind of map in his head. He started using what he calls 'flash sonar" sometime after his second birthday. "The process began largely as a result of the way I was raised and the attitude by which I was raised" Kish explains. "My parents did not raise me with fear or apprehension or anxiety. They certainly didn't raise me with the idea that there should be limits or restrictions placed upon me. I was strongly supported and encouraged to get out there and figure it out without a lot of busy-bodies spoon feeding me." Now he runs a non-profit organization called World Access for the Blind to teach students the same technique.
Kish makes clicking noises with his tongue. The flashes of sound reflect from surfaces around him, forming a pattern in his mind. "I quickly became able to navigate environments, to get around new environments and to know what was around me and probably to get myself in as much trouble as I was able to. It gave me an unparalleled degree of freedom and confidence." Kish says everyone has a different kind of signal, not everyone clicks with their tongue. The sound just needs to be sharp, clear and brief. He thinks tongue clicking is the most convenient. "It's hands free for one thing. It's always with you, it doesn't need batteries, it doesn't wear out. It gives you total control over the signal that you need and the image it allows you to construct" Kish explains.
Studies of auditory maps in animals have been done for more than 20 years. Only recently has work been done in people to try to understand how the human brain and the human ear can create a mental picture of an entire scene based on sound waves. The science of human echolocation is not science fiction. "When I first began teaching this in the 1990s the main media we drew was the freaks and aliens and space healers and ghost media" Kish recalls. "We've moved to things like National Geographic and CNN and Radio New Zealand." Kish himself and other echolocation experts have taken part in MRI studies. He says the research shows that the visual cortex of his brain, even though he has no eyesight, functions as if he is seeing when he is using echolocation.
So what does the image in his brain look like? "I would refer to it as a kind of three dimensional fuzzy geometry. It certainly does not have the definition that vision affords. Nor does it have color. It has contours and form factors. It has dimension, large small, tall, short, wide, narrow. It has position. You know where things are, how far away things are. You know where things are relative to other things and you do get information about texture and depth and structure" Kish explains. "It basically gives you ownership over any type of environment under any conditions. It dramatically improves and expands and diversifies the situations in which one can navigate confidently and freely."
While the work of World Access for the Blind has support and has been going for 15 years, very few traditional organizations for the blind in America support Kish's methods. He is sometimes considered controversial. "There are several issues involved the first is that our approach is non-traditional in lots of way and any time a non-traditional approach comes up against a traditional one you're going to have some sparks, sparks are going to fly. And it does clash with a lot of the traditional thinking about blind people and how to teach blind people" he says. "The other issue is social acceptability. There are concerns, particularly among blind consumer groups, about the social acceptability of clicking."
Kish says that in his nearly 60 years of clicking as a method to find his way around, it never really drew anyone's attention. "I was not considered remarkable. I was not considered a celebrity. I was not considered special. If anything people just accepted it quite casually and it was never a topic of conversation. I think my parents having no information about blindness just assumed that blind kids did this."
World Access for The Blind, Kish says, works with people of all ages and abilities. He says they taught an 83 year old Australian man, who had recently lost his sight, how to use flash sonar. He maintains that he is not special. He doesn't have superhuman hearing, but what he did have is supportive parents who believed in him and a supportive community too. "The reality is the development of my ability to navigate and teach what I know really comes from the unlimited freedom I had as a child and parents who raised me without fear and without over-protection."
David tells Afternoon's Simon Mercep it is his mission, through World Access for the Blind, to help other visually impaired people learn the technique and achieve the kind of independence he enjoys.