Afternoons with Jesse Mulligan for Tuesday 28 July 2015
1:10 The Song You Have To Hear
Liquid Spirit by Gregory Porter.
1:15 'Ridley' the Sea Turtle - Libby Callander
Ridley the turtle is continuing to recover at Wellington Zoo. The 25kg Olive Ridley Sea Turtle was discovered at Lyall Bay beach just over two weeks ago. The endangered turtle was was found hypothermic and barely responsive. And the chance of recovery was looking 50/50 when we last spoke with the zoo. Wellington Zoo updates us.
1:20 The Art and Science of Firewalking - Dr John Campbell
About 300 people turned up to learn about the science of firewalking last night. And, some of the brave gave it a go. Christchurch physicist, Dr John Campbell, gave a public lecture at the University of Otago before the punters took to the glowing charcoal.
1:30 No Free Man: To No One Deny Justice - Dr Erin Griffey
A new photographic exhibition is opening next week, to mark the 800th anniversary of the signing of Magna Carta. It's a series of portraits aimed at promoting public discourse around the criminal justice system in New Zealand. It features portraits of Teina Pora, Lousie Nicholas and four prisoners who are currently incarcerated. It's called No Free Man: To No One Deny Justice, and the images are taken by Nigel Swinn. Curator of the exhibition, Dr Erin Griffey, is an expert on portraiture and Head of Art History from the University of Auckland.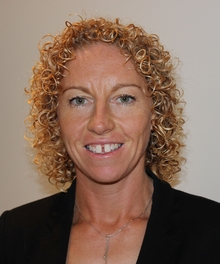 1:40 What's your greatest album of all time?
Haidee Tiffen (pictured) talks about her favourite album, I Am Sasha Fierce by Beyonce.
2:10 The Greatest Kiwi Concert You've Ever Seen
This time every Tuesday, we'll be revisiting a great New Zealand concert.  Today, to kick it off, we're going all the way back to 1978, when a musical phenomenon touched down on Auckland's North Shore.
The God­fa­ther Of Funk by Murray Cammick

3:10 Feature interview - Robert Yehling
Surfer Clay Marzo knows waves.  At the age of 15, he became the first surfer to receive two perfect 10's at the US Men's National Competition.  He knows waves, but often he had a hard time understanding people.  After years of feeling isolated from his peers, years when the only peace he felt was in the surf, he was diagnosed with Asperger's.  Author Robert Yehling tells his story in the new book, Just Add Water: A Surfing Savant's Journey with Asperger's.
3:35 Our Changing World - Ruth Beran
Behind the scenes at New Plymouth's museum Puke Ariki is a treasure trove of natural sciences, but not even Heritage Manager/Pouarahi Tukuihotanga Andrew Moffat knows exactly how large it is. That's because it hasn't been fully catalogued, and Jo Fitness shows Ruth Beran what that task involves.
Stories from Our Changing World.
3:45 The Panel Pre-Show
What the world is talking about.  With Jesse Mulligan, Jim Mora and Noelle McCarthy.