Afternoons with Jesse Mulligan for Wednesday 20 May 2015
1:10 Your Song
Space Oddity by David Bowie.  Chosen by Lee Mauger. 
1:20 Music Trivia game 
No clues here, sorry. 
2:10 A Place To Call Home - Briar March
How to manage our state housing is being widely debated. And a new documentary looking at the issue of privatisation, and how we deal with social housing is being launched as part of the Documentary Edge Festival. A Place To Call Home is the work of filmmaker and educator Briar March. Briar has received more than 30 international awards for work. Her work includes documentaries, There Once Was an Island: Te Henua e Nnoho, and Allie Eagle and Me. But for her latest project, Briar has spent three years following two Māori women involved in opposing housing projects. One in Glen Innes, and one in Northland.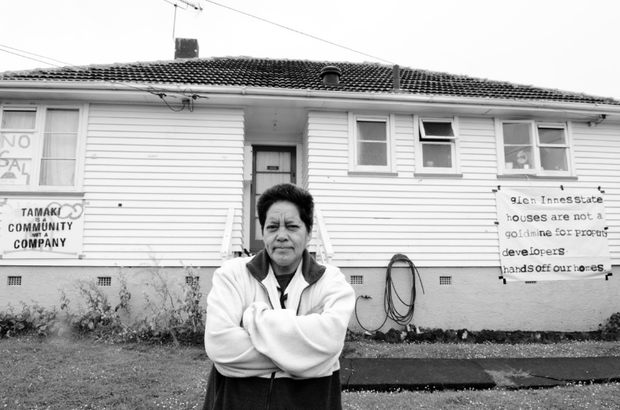 Image courtesy of Elizabeth March.
2:30 NZ Reading - The Conductor
Elias is asked to conduct Shostakovich's Seventh Symphony for the first public concert in Leningrad.  His drunken ex oboist Alexander rescues him when he keels over but is unable to play anymore. Elias's orchestra struggle and Nina Bronnikova comes to help Nikolai and Elias copy the music scores. She offers to play piano. Nikolai is desperate for his daughter Sonya.
2:45 Feature album
Earth, Wind and Fire.  'That's the Way of the World'.  
3:10 Tech News - Paul Brislen 
Could the world's most sophisticated aeroplanes be hacked in mid-air by passengers who wanted to take over the flight controls?
3D printing is starting to take us in some interesting directions. Currently it's typically plastic sculptures and dull stuff, but as the capability increases we're seeing artificial limbs being produced, even jet engine components and ultimately we'll have 3D printed steaks. No, you didn't misread that. Printing food.  And 3d printing of skin to test cosmetic products.
A couple of Obama tech stories.  First, a bunch of tech companies plead with the president to keep the government out of private citizens' smartphones and emails. Here's the Guardian's take on this.  Second Obama story - he joins Twitter.
Big chinese video streaming company Letv (which predated Netflix) says it will sell smartphones in the USA, but as a way of watching video, not for the phone function … so what will smartphones eventually be used for mainly? Should we drop the word "phone" and just call it a smartdevice?
Also, some advice for Android users needing Adobe Flash.
3:30 Reframing The Great Outdoors - Sonia Sly
We take a look at the benefit of plants in both our urban landscape and within the home, when Sonia Sly meets a couple of plant and design experts who say that they do more than just beautify the environment.
3:45 The Panel Pre-Show
What the world is talking about.  With Jim Mora, Zara Potts, Barry Corbett and Lindsay Dawson. 
MUSIC DETAILS:
Wednesday MAY 20   
YOUR SONG:  
ARTIST:  David Bowie
TITLE:   Space Oddity
COMP:  Bowie
ALBUM: Space Oddity
LABEL: EMI    791835
TRIVIA QUIZ:
ARTIST:  Mamas and the Papas
TITLE: California Dreamin'
COMP: Phillips, Phillips
ALBUM: The Mamas And The Papas: Best Of
LABEL: MCA
ARTIST:  The Cars
TITLE: Magic
COMP: Ocasek
ALBUM:  Heartbeat City
LABEL: ELEKTRA
ARTIST:  Anne Murray
TITLE:  Snowbird
COMP: MacLellan
ALBUM: Anne Murray: Greatest Hits
LABEL: CAPITOL
ARTIST:  Ella Fitzgerald
TITLE: I Love Paris
COMP: Cole Porter
ALBUM: Ella Fitzgerald: The Cole Porter Songbook, Volume Two  
LABEL: VERVE
ARTIST:  The Bangles
TITLE: Hazy Shade of Winter
COMP: Simon
ALBUM: The Bangles: Greatest Hits
LABEL: COLUMBIA
ARTIST:  Mungo Jerry
TITLE: In the Summertime
COMP: Ray Dorset
ALBUM: Mungo Jerry: The Dawn Singles Collection
LABEL: GLAM
ARTIST:  White Stripes
TITLE: Dead Leaves and the dirty ground
COMP: White, White
ALBUM: White Blood Cells
LABEL: XL
ARTIST:  Carole King
TITLE: You've got a friend
COMP:  King
ALBUM: Carole King: The Legendary Demos
LABEL: ROCKINGALE
ARTIST:  The Motels
TITLE: Suddenly Last Summer
COMP: Davis
ALBUM: Motels: The Best Of
LABEL: EMI
ARTIST:  Future Islands
TITLE: Seasons (Waiting on you)
COMP: Future Islands
ALBUM: Singles
LABEL: 4AD    373402
FEATURE ALBUM:  
ARTIST:  Earth, Wind And Fire  
TITLE:  Shining Star
COMP: Philip Bailey / Larry Dunn / Maurice White
ALBUM: Thats The Way Of The World  
LABEL:  Sony Music  
ARTIST:  Earth, Wind And Fire  
TITLE:  Thats The Way Of The World  
COMP: Charles Stepney / Maurice White / Verdine White
ALBUM: Thats The Way Of The World  
LABEL:  Sony Music  
ARTIST:  Earth, Wind And Fire  
TITLE:  Reasons
COMP: Philip Bailey / Charles Stepney / Maurice White
ALBUM: Thats The Way Of The World  
LABEL:  Sony Music  
THE PANEL:
ARTIST:   The Hollies
TITLE:   Dear Eloise
COMP:   T. Hicks/G. Nash/The Clarkes
ALBUM: The Hollies: Greatest Hits
LABEL:  EPIC