Afternoons with Jesse Mulligan for Thursday 7 May 2015
1:10 Your Song - Je T'aime by Serge Gainsbourg chosen by Dom Blaazer from Auckland
1:20 Our New Zealand A to Z: Knitting - with:
Teacher, designer, knitter and spinner Margaret Stove
Royal shawl knitter Cynthia Read
Prison volunteer Coralie Curtis, on knitting in Hawkes Bay Prison
Jenna Todd and her granny Sandy Todd.
Calling all knitters - share your triumphs and disasters. Email your pics to website@radionz.co.nz
Gallery: NZ A-Z: knitting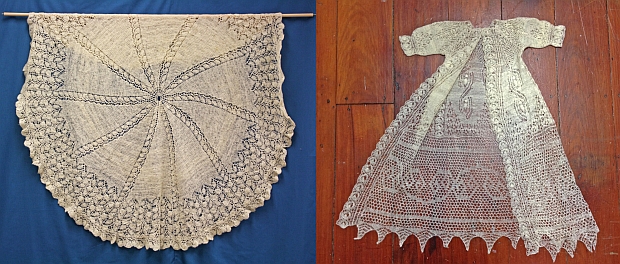 Left: The Rata shawl. Right: Bush Bouquet Christening coat (which was a precursor to the shawl designed and made for the birth of Prince William). Images courtesy of Margaret Stove.
2:10 Ugly Shakespeare - Richard Green
For 20 years the Ugly Shakespeare Company has toured theatre to schools the length and breadth of the country, introducing 800-thousand school kids to the Bard.
2:20 Could you travel the world on $10 a day?
Croatian stockbroker-turned broke traveller, Tomislav Perko, has been doing just that for five years. He's hitchhiked across the Indian Ocean, traversed five continents, and now he's in New Zealand.
2:30 NZ Reading - Peter Bland with part four of 'The Conductor' by Sarah Quigley.
MUSIC DETAILS     
Excerpts from allegretto of  Dmitri Shostakovich's Symphony no. 7 in C major, NZSO [RNZ Recording]
- - - - - - - - - - - - - - - - - - - - - -
INTERACTIVE:     
The Conductor by Sarah Quigley Pub: Random House  / Vintage (6-May-2011) ISBN-978-1869795061
2:45 Feature album -  Judith by Judy Collins (1975)
3:10 The Expats - Today, Baden Campbell who's on his way home from London - but instead of flying, he's taking the best part of two years to travel back by bike.
3:20 The Porton Down Cover-up
In May 1953, British airman Ronald Maddison died after taking part in a nerve gas test at government research base Porton Down. His death would be covered up for nearly fifty years. This BBC Witness story includes the memories of another  test subject Michael Cox, who was in the gas chamber when Maddison collapsed.
http://www.bbc.co.uk/programmes/p02q5dq0
3.35 Exercise Is The Best Medicine - Alison Ballance
What began more than 30 years ago as an exercise clinic at the University of Auckland for cardiac patients has now been expanded to become an exercise physiology clinic offering specialist exercise advice to people with all sorts of medical and surgical conditions.
Stories from Our Changing World.
3:45 The Panel Pre-Show - Zara Potts