Afternoons with Jesse Mulligan for Monday 13 April 2015
1:10 Your Song
When The Music's Over - The Doors.  Chosen by Sam Hill

1:20 New Zealand Retro: Dance Halls 
Robert Consedine was the MC and organiser of the Spencer Street dance
Dawn Morgan and her husband Gary
President of the Auckland Rock n Roll club, Helen Bary
Archival audio supplied by Ngā Taonga Sound & Vision.
2:10 Snowy South - Pam Turnbull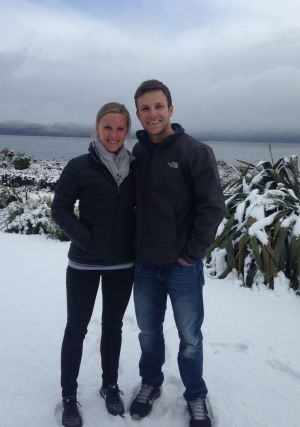 Snow is falling and it may signal an early winter for the South Island. Metservice says a cold front has brought snow to low levels in parts of the South Island.
The weather caused road closures last night, with State Highway 94 between Te Anau and Milford only being re-opened this morning. Pam Turnbull is the owner of Loch Vista Bed and Breakfast located on the highway overlooking Lake Te Anau.
Picture: Davis and Brooke from Dallas, Texas. Stayed overnight at Loch Vista, Te Anau and heading to Milford Sound today. Courtesy of Pam Turnbull.
2:20 Packaged Foods -  Cliona Ni Mhurchu
Packaged foods may be even less healthy than you thought. A new study has found that fewer than half of all packaged foods were healthy enough to actually carry a health claim. The researchers scored more than 23,000 packaged foods and non-alcoholic drinks sold in New Zealand and Australia in 2012. The leader of the study is Professor Cliona Ni Mhurchu from the National Institute for Health Innovation at the University of Auckland.
2:30 NZ Reading: Taming the Tiger by Michael Morrissey
A five-part reading of Michael Morrissey's frank description of two serious bipolar episodes is told in a riveting and lively manner.
2:45 Feature album
Lust for Life by Iggy Pop (1977) 
3:10 Feature Interview - Tom Yorton
An improv theatre that produces talents like Tina Fey, Bill Murray, James Belushi, Steve Carell and Amy Poehler must be doing something right.  For 50 years, The Second City in Chicago has turned out incredible comedic talent.  What most people don't know is that the top executives at the company have also been helping businesses do better by using principles of improvisation.  Jesse talks to CEO Tom Yorton about their corporate training and their new book, "Yes, And: How Improvisation Reverses 'No, But' Thinking and Improves Creativity and Collaboration."
3:30 Voices - Lynda Chanwai-Earle
104 Mandarin Language Assistants are about to head to primary and secondary schools across the country.  Hailing from different parts of China, these tutors will be billeted with homestays to experience grass roots life here in exchange for teaching Chinese language and culture.  Lynda Chanwai-Earle heads out to meet them during their first welcome to a marae
3:45 The Panel Pre-Show
With Simon Mercep, Noelle McCarthy, Niki Bezzant and Chris Wikaira
MUSIC DETAILS
Monday 13 April
YOUR SONG:
ARTIST: The Doors
TITLE:    When The Music's Over
COMP:  Doors
ALBUM:  Strange Days
LABEL:  ELEKTRA     101183
RETRO:
ARTIST: Ray Colombus
TITLE:    She's A Mod
COMP:  Colombus Ray & The Invaders
ALBUM:  Zodiac Records: Sampler 1964-1972 
LABEL:  ASCENSION 561112
ARTIST: Bill Haley And His Comets
TITLE:    Rock Around The Clock
COMP:  DeKnight, Freedman
ALBUM:  Golden Hits
LABEL:  EMI 432014
ARTIST: Tom Sharplin
TITLE:    Ready Teddy
COMP:  Blackwell, Marascalco
ALBUM:  Rock Around The Clock
LABEL:  Music World
FEATURE ALBUM:
ARTIST: Iggy Pop 
TITLE: Lust For Life 
COMP: Bowie, Pop 
ALBUM: Lust For Life
LABEL: VIRGIN   786153
ARTIST: Iggy Pop 
TITLE:  The Passenger
COMP: Gardiner, Pop
ALBUM: Lust For Life
LABEL: VIRGIN   786153
ARTIST: Iggy Pop 
TITLE:  Tonight
COMP: Bowie, pop
ALBUM: Lust For Life
LABEL: VIRGIN   786153
PANEL 1/2 TIME SONG:
ARTIST:  Lou Reed
TITLE: Guilty
COMP:  Reed
ALBUM:  The Raven
LABEL:  WARNER      148373