Afternoons with Jesse Mulligan for Friday 12 September 2014
SHOW NOTES
1:10 Best song ever written - Today's request comes from Roger Jolly, an old boy of Wesley College, Auckland, which celebrates its 170th year reunion this weekend. Roger has chosen the school's hymn "Oh For A Thousand Tongues To Sing'.
1:20 NZ Live - Grand Rapids.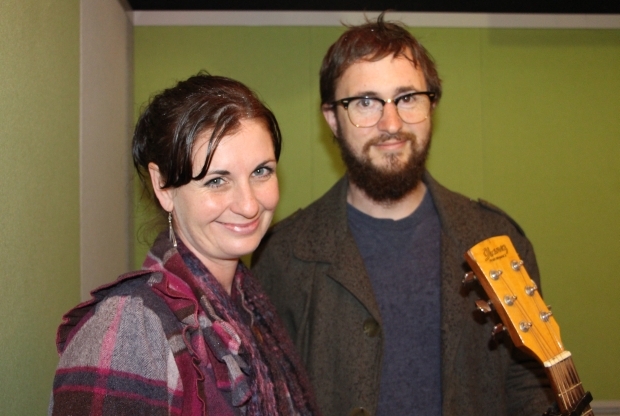 Grand Rapids. Photograph by Dru Faulkner.
Ben King's latest project is Grand Rapids, which started out as a solo thing but has morphed into full blown band playing songs all written by him.  Over a two year period, Ben collected enough material to release a second solo album, Faintheartedness.  Now he's working on a bunch of new tunes, some of which we'll hear today.
2:10  The Martin Jetpack - Want to know what it's like to fly in a jetpack? Christchurch-based company Martin Aircraft says it's achieved an important milestone. It's gone out to raise investor funds, and it reports its pre-IPO offer has been oversubscribed. And that, means the personal jetpack is one step closer to becoming a commercial reality. To tell us more, the company's CEO Peter Coker joins Simon from Boston, Massachusetts.
2:20  The Curtain Bank - It's not news that New Zealand has a problem with damp houses and the associated health issues - and that many people can't afford to take steps to fix the problem. That's where the Curtain Bank comes in. Run by Sustainability Trust, the bank provides curtains to low income families in the Greater Wellington region. Amelia Nurse talks to Megan Hubscher at the Curtain Bank about how they source the curtains, what else Sustainability Trust is involved with, and the difference they make in peoples' lives.
2:30 NZ Reading - Owen Scott reads episode five of 'Sensible Sinning' adapted from book of autobiographical anecdotes by Auckland law professor, Bernard Brown.
2:45 Feature album - 'Forrest Gump' The Movie Soundtrack.  The 12-times platinum rock & roll soundtrack to Forrest Gump, which features songs by Elvis Presley, Creedence Clearwater Revival, Bob Dylan and more. 
3:10 Your Weekend
Fresh Fast Food.  Fleur Sullivan of Fleurs Place in Moeraki with a recipe for Mussel Fritters.
Weekend Wine with Yvonne Lorkin. Including, Taylors Clare Valley Cabernet Sauvignon 2012, Spy Valley 'Free Range' Marlborough Riesling 2013 and Mahurangi River Winery Roussanne Viognier 2013.
Movie Review with Sarah McMullan.
3:45 The Panel Pre-Show - What the world's talking about today.... Is cycling racist? Has the Loch Ness monster moved south in anticipation of the Scottish vote? A bit of a worry when flying has been revealed.  The sniper hired in the shopping mall and why; where's the universe's lithium gone? The gloomy view in China about war with Japan.