Afternoons with Jesse Mulligan for Friday 20 June 2014
1:10   Best Song Ever Written: Gillian Bell from Levin nominated 'Every Time We Say Goodbye" by Annie Lennox
1:20  NZ Live - Wayne Mason remembers and plays the Beatles as we celebrate their 1964 tour here over the next week.
2:10  Capturing The News - Mario Tama, award-winning photojournalist: For several days now the attention of the football world has been focussed on what's happening on the pitch, with the FIFA World Cup in Brazil delivering plenty of goals and action. But it's not that long ago that protests over poverty and corruption grabbed headlines, as a country with a huge divide between the rich and the poor spent billions preparing for the tournament.
One award winning photo journalist has been in Brazil to record the daily lives of local people.
2:20  Climbing the Auckland Harbour Bridge - Amelia Nurse: Many of us have been across the Auckland Harbour Bridge - but what about under and over - by foot? In the 55th Anniversary year of the bridge, Amelia Nurse tests her confidence about heights to cross the harbour - almost  - by foot: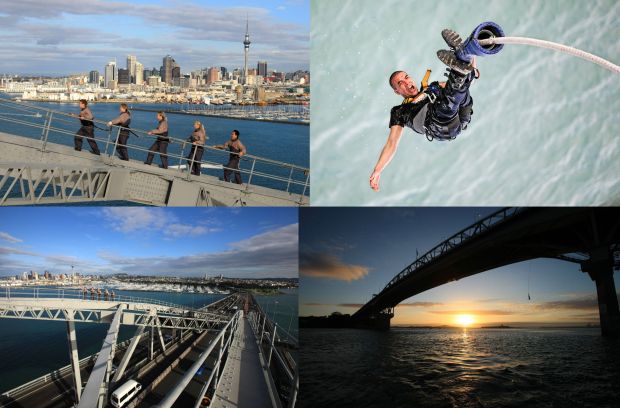 See www.aucklandbridgeclimb.co.nz and www.bungy.co.nz
2:30  NZ Reading: The final  of our five part reading of 'Still Alive', by Panni Thomas and Pauline Cartwright.
Panni is liberated by the Vietnamese in 1979. She returns to Phnom Pen and there makes contact with her brother, her one remaining family member. But she is banished from his home and gets to a refugee camp on the Thai-Cambodian border, leaving there in 1987 to come to NZ.
2:45  Today's feature album is the 1986 debut from British pop duo, The Pet Shop Boys.       
3:10  Food, Wine and Movies: Award winning food writer, Julie Biuso has a big fruit cake for the weekend .. Yvonne Lorkin selects the wine .. and Sarah McMullan reviews the NZ vampire movie, 'What we do in the Shadows' - and the new Adam Sandler film, 'Blended'. Plus her TV picks.
Food - Recipe: Julie Biuso's Big Fruit Cake
Wine - Yvonne Lorkin
Wise Owl Hooting White 2013 $12
Craggy Range Te Muna Road Sauvignon Blanc 2013 $23
Unison Vineyard Gimblett Gravels Syrah 2010 $52
Movies - Sarah McMullan
What We Do In The Shadows       ****
1hr 26; R13: Offensive language & violence
Director: Taika Waititi (Boy, Eagle vs. Shar) & Jemaine Clement (Debut)
4 Stars
Blended      *
1hr 57mins; PG: Sexual References
Director: Frank Coraci  (The Wedding Singer)
Screenplay: Ivan Menchell & Clare Sera
Starring: Adam Sandler, Drew Barrymore, Wendi McLendon-Covey, Bella Thorne, Terry Crews, Joel McHale
1 Star
TV Pick: Saturday - TV One - 7.30pm - Outback Truckers
3:45 Bridget Mills today with What The World's Talking About: the problem with paracetemol, the tragic story of the Goldman Sachs trader whose bonus was savagely cut to only 8 million dollars US.... is free will just the background noise of the brain, love that story. Is sunbathing addictive, the heart disease/depression link in older women, and the Christian musician who's admitted he's an atheist and he claims a lot of Christian musicians are.