Afternoons with Jesse Mulligan for Monday 25 November 2013
1:10 Best song ever written - Nigel Davis of Spotswood nominated 'Hunger Strike' by Temple of the Dog
 (vocals by rock legends, Chris Cornell & Eddie Vedder)
1:20 Eight Months To Mars - Dame Malvina Major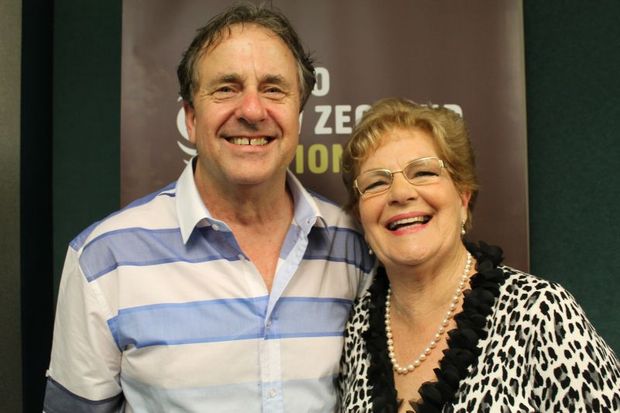 Dame Malvina Major (right) joins Afternoons host Jim Mora (left) for eight months to Mars today.
2:10  Dr Who - Lucy Burn of BBC Witness
On 23 November 1963 the first episode of Doctor Who, one of the world's best loved TV programmes was shown.  Carole Ann Ford, who played the Doctor's grand-daughter, recalls the early days on set, and how life changed as the show became more popular.
- - - - - - - - - - --
MUSIC DETAILS
BBC Radiophonic Workshop: Theme from Dr Who (Derbyshire/Grainger)
LINKS
http://www.bbc.co.uk/programmes/p01llw4n
2.20: We check-in with the Vaka Eiva - or Waka Festival - in Rarotonga, with paddlers from throughout the world racing traditional Polynesian canoes. Jim talks with Sonny Wharekura whose team from Tauranga is competing in the marathon race around the island.
2:30 Reading:  In her 5000 kilometre bicycle journey in the wilds of South America, Eleanor Meecham is passing through the largely uninhabited stretches of northern Argentina  as she continues reading from her book 'Llamas and Empanadas' at half past two.
- - - - - - - - - - - - - - - - - - -
MUSIC DETAILS      
La Ley y la Trampa by Silvia Mujica, sung by Chaqueno Papaveccino, tk 1 CDE 80.302
2:45 Feature album - Tango in the Night - Fleetwood Mac (1987)
3:10 Feature Author: Scott Bainbridge - 50 years ago next week, the headline of the Truth Newspaper screamed  'Chicago Comes to Auckland' after two men were found shot several times in a gang style murder on Bassett Road in the Auckland suburb of Remuera. It was  December 7th 1963 and for the first time, New Zealanders were reading about the violent criminal  underworld in our own backyard.
But the murders of George  Walker and Kevin Speight would take twists and turns that still raise questions today.
The two men convicted of the murders both initially denied the charges. One of them may have faked his own death and his wearabouts remain a mystery.
Real life crime writer  Scott Bainbridge has written a book that challenges some of the long held beliefs about what happened that day and why.
3:30 Robotics - Ruth Beran - Does your name match your face? If it does, then people will like you more, according to research by David Barton. Similarly, Sam O'Sullivan has found that the right names also just feel "right". Ruth Beran meets these University of Otago students, and their supervisor Jamin Halberstadt, to discover why names are so important.
INTERACTIVE DETAILS:  http://www.radionz.co.nz/ourchangingworld
4:06 The Panel today, with Matt Nippert and Chris Wikaira: the dangers of an offshore oil spill, the lovely long holidays for judges, the loathing some peope have of noise in suburbia, and the Swiss, interestingly, have rejected the idea we talk about on The Panel a lot, restricting the salaries earned by CEOs and executives to 12 times the wage of their lowest-paid workers.