Afternoons with Jesse Mulligan for Tuesday 2 July 2013
1:10 Best Song Ever Written - Ryan Belbin of Canada nominated "Polly Moore" by the Dardanelles.
1:20 Critical Mass
TV  - Sarah McMullan - The X Factor:  TV3 - Sundays @  Mondays @ 8pm
Books - Cushla McKinney - Shift by Hugh Howey.
Music - Nick Atkinson
ARTIST:    Bannerman         
TITLE:        Hills and Valleys    
COMP:    Richard Setford                      
ALBUM:    Unreleased
LABEL:    RNZ Auckland   
ARTIST:    Bannerman    
TITLE:        I'm The Wrong Man                                            
COMP:    Richard Setford         
ALBUM:    Clawhammer    
LABEL:    Rhythmethod    
Web - Ele Ludemann
2:10 The Gwynnie Peacock Diary - Tony Dodsworth - She was an intrepid New Zealander, travelling through Europe on the eve of war. In 1939, Gwynnie Peacock made her way from Auckland to England, keeping a diary of everything she saw. She travelled through the Gulf of Aden, and visited Germany under Hitler, documenting her observations in a series of remarkable journals that run to hundreds of thousands of words. Over 70 years later, and with the publication of her diaries, Gwynnie Peacock is about to become a published author, nearly a decade after her death. But there are still some gaps in what is known about Gwynnie and her life, and her english publishers are hoping the NZ public might be able to help them fill them in.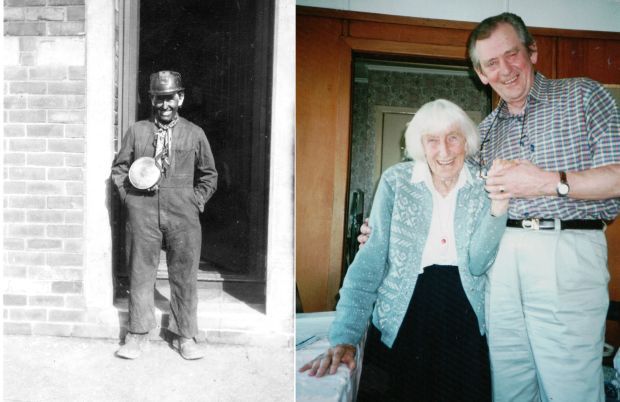 Left: Gwennie Peacok after she came up from a visit to the coal-face in a Yorkshire colliery in 1940. She had been smuggled underground by her uncle who was a miner.
Right: Gwennie in 2002 with her first cousin, John Turner who visited her in New Zealand.
Images courtesy of Tony Dodsworth.
2:20 Scrabble Number One - Blue Thorogood - Musjiks, Faqir, Flapjack, Jukebox, Chutzpah Caziques, Jousted are a collection of particularly useful scrabble words. you don't have to know what they mean. Musjiks are russian peasants, and with 128 points, they'll net you the highest possible opening play. Faqirs are sufi holy men, and a good way of using up an unaccompanied "q"...americans eat flapjacks for breakfast, you can have 356 points for just one of them, if you stretch it between two triple word squares... ...you can get 106 for Jousted, and Aerie uses up four vowels in one fell swoop..jukebox is an americanism, but it's worth 85 points as an opening play...chutzpah is worth at least 26 words anywhere on the board.
Jim talks with New Zealand's Number One scrabble player, Blue Thorogood of Christchurch.
2:30 Reading - Episode seven in our ten part radio adaptation of his book 'Hello Dubai'. Joe ventures into Deira in the east of Dubai, where many of the immigrant workers live.
- - - - - - - - - - - - - - - - - - -
MUSIC DETAILS      
Dubai by Steve Everitt, tk 22 ATMOS208 - Palm Island
2:45 Feature Album - Random Access Memories - Daft Punk  (2013)
3:10 Tune Your Engine - Bullying - Dr Corinna Jenkins Tucker is an associate professor of family studies at the University of New Hampshire. A study from the University of  New Hampshire suggests sibling bullying - though we accept it a lot more - is just as dangerous as peer bullying. We'll talk to the lead researcher. Take 'sibling aggression' much more seriously is the claim.
3:30 In today's Asian Report; Lynda Chanwai-Earle talks to the couple who were New Zealand's top diplomatic representatives in China during the events of the Tiananmen Square massacre in 1989.
4:06 Nevil Gibson and Steve McCabe are on The Panel today, talking about the fattening of the nation - more and more fast food being consumed. The simple secrets of happiness. The mental problems in the military. Tower Insurance and the Wellington garage that came down in the storm, or was it that the Wellington garage that came down because of rusty screws. And a serious suggestion that we should ditch the internet because it's more trouble than it's worth.