Afternoons with Jesse Mulligan for Friday 22 February 2013
1:10 Best Song Ever Written - Kat Csengo of Auckland nominated 'Another Night In' by the Tindersticks.
1:15 NZ Live - Manhattan Transfer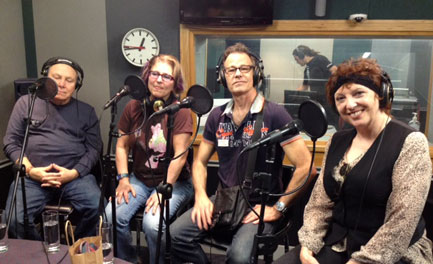 (L-R) Tim Hauser, Janis Siegel, Alan Paul and Cheryl Bentyne in the Radio New Zealand studio
2:10 The Featherston Incident - Jim Veitch. It's one of the most tragic, and also one of the most controversial episodes of New Zealand history during the second World War. The shooting dead of nearly 50 Japanese prisoners by the guards who were in charge of them at a military camp in Featherston, in 1943.
The official report at the time, said the prisoners were shot to stop them from rioting, but this version of events has since been disputed by journalists and academics who've had access to first hand accounts of what actually happened at the Featherston Military Camp on the morning of Thursday February 25th 1943.
Now, With the commemoration of the 70th anniversary of the event due to to take place this Monday, another prominent historian is adding his voice to those of the revisionists.
Jim Veitch is a Senior Fellow at the Centre for Strategic Studies and a Senior Lecturer in Security Studies at Massey University
2:25 NZ Society - In this week's New Zealand Society series; Intimacy plays a central role in the human experience. Lynda Chanwai-Earle finds out what life is like for single working parents when she attempts to enter her very first speed dating event.
2:35 Reading - Today the final extract from 'Skin To Skin'  - Carolm Archie's book looking at the lives of some people in cross-cultural marriages in New Zealand.
- - - - - - - - - - - - - - - - - - -
MUSIC DETAILS      
True  TR.02 © Trinity Roots 2002 Tk 9. Little Things by Warren Maxwell, Rio Hemopo, Riki Gooch.
2:50 Feature album - Tapestry - Carole King (1971)
3:08 One Stop Shop - For your weekend we have a recipe from Julie Biuso, as eggplant and chick pea dish .. Yvonne Lorkin recommends the bottles of wine - and Sarah McMullan has her picks for the Oscars.
Wine Picks - Yvonne Lorkin
Haha Marlborough Sauvignon Blanc 201 $11 (internet sales)
Sea Level Home Block Nelson Pinot Gris 2011 $19
Palliser Martinborough Chardonnay 2011 $30
Movies - Sarah McMullan
4:06 The Panel - Ali Jones and Barry Corbett from ChCh on the second anniversary of the February 22 quake.