Afternoons with Jesse Mulligan for Thursday 9 August 2012
1:10 Best Song Ever Written
1:15 Your Place
2:10 Feature stories
2:30 Reading
2:45 Feature Album
3:12 Arts Report
3:33 Southern story: Marlborough Falcon Conservation Trust
On the flipside of the Queen on our $20 bill is the image of a rare bird – the karearea, or New Zealand falcon. It's our only remaining endemic, day-hunting (or diurnal) bird of prey, and although they're spread through most of the country, they've been severely impacted by predation and habitat loss. It's estimated there are only about 4000 breeding pairs remaining, making them rarer than kiwis.
In 2005 international wildlife consultant Dr Nick Fox founded the Falcons for Grapes programme, aiming to re-establish the little raptors on the Wairau Plains. He reasoned these aerial hunters would benefit grape-growers by reducing the numbers of introduced birds feeding on the crops.
Late last year (2011) the Marlborough Falcon Conservation Trust (MFCT) assimilated the Falcons for Grapes programme, continuing the breeding, rehabilitation, release and monitoring of the birds, and education of the public.
Dr Sara Kross, programme manager for the Trust, has been studying the tiny raptors since 2008. She observed a 70% reduction in damage to grapes in vineyards with a resident falcon, meaning huge savings to growers. About 93% of their diet is introduced species such as finches.
Diana Dobson is a passionate falcon handler, and the aviary manager at a secret location near Blenheim. Here injured birds are nursed to health and released, or contribute to the breeding of karearea for release. MFCT is one of only a few organisations permitted to keep the birds captive. She's going to share her falconry skills with volunteers in Marlborough.
Visit MFCT website or email falconconservation@gmail.com if you'd like to be involved with fundraising or volunteering.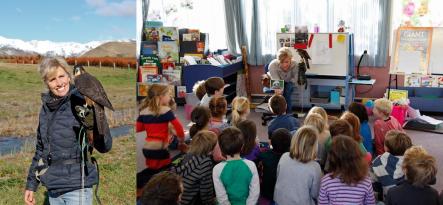 Left: Diana Dobson with Fern. Right: Diana and Fern or a school visit. Images courtesy of Dr Sara Kross, MFCT.
3:40 Our Changing World
4:06 The Panel