Afternoons with Jesse Mulligan for Thursday 31 May 2012
1:10 Best Song Ever Written
1:15 Your Place
2:10 Feature stories
2:30 Reading
2:45 Feature Album
3:12 Arts Report
3:33 Southern story: Patriarch Grape Harvest
2012 is rumoured to be an excellent vintage for Marlborough wines, thanks to a cold, wet Summer and cool, dry Autumn.
Sage Forest is in the thick of wine-land – the Wairau Valley, at the last block of grapes to be harvested by Patriarch Wines, with vineyard manager Hudson Steele. Patriarch Wines is a small group of companies committed to organics, and want to prove it can work on a larger scale. The Gruner Veltliner block is two years away from certification, but other certified blocks provide wine for the Naked Vine label. The Gruner is ready to harvest and will go to Marlborough Vintners, where senior production winemaker Nicky Parrish will see it through to cellaring.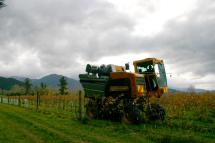 Left: Hudson harvesting Gruner Veltliner in Wairau Valley.
Right: Nicky Parrish in the barrel-hall, Marlborough Vintners.
3:40 Our Changing World
4:06 The Panel