Afternoons with Jesse Mulligan for Thursday 5 April 2012
1:10 Best Song Ever Written
1:15 Your Place
2:10 Feature stories
2:30 Reading
2:45 Feature Album
3:12 Arts Report
3:33 Southern story
Erewhon Station is 35,000 acres at the headwaters of the Rangitata River, country so beautiful it featured in the second Lord of the Rings movie, Twin Towers,
Colin Drummond and Erin Cassie get up early to drove 800 of their 1500 merinos up-river. Then they're back to hitch a team of eight Clydesdales to a wagon-load of firewood to take up to the high-country hut.
Colin's owned Erewhon for 14 years. He loves the mustering lifestyle and has bred horses for his horse stud for about 30 years - working horses, prefered on the farm for transport, plowing, etc.
He came to get away from people, but it's now a popular tourist destination. Luckily Erin loves people almost as much as the horses.
Sage Forest hitches a ride on the wagon and team of eight.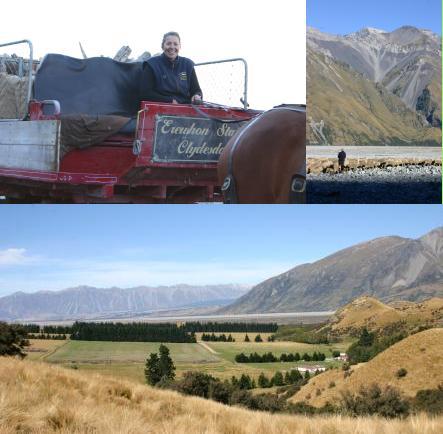 3:40 Our Changing World
4:06 The Panel