Afternoons for Tuesday 13 September 2011
1:10 Best Song Ever Written
1:15 Critical Mass
2:10 Feature Stories
2:30 Reading
2:45 Feature Album
3:12 Tune Your Engine
3:33 Asian Report
Lynda Chanwai-Earle experiences hands-on cuisine and culture from around the globe, in an interactive and bi-annual touring exhibition called The Migrating Kitchen currently on show at the Pataka Museum in Porirua, Wellington. The Iranian community in Wellington are featured in this story for some very accessible lessons in cooking and culture. And the Migrating Kitchen Exhibition runs to September 25th at Pataka Museum, Porirua, Wellington, with the upcoming Tongan and Argentinian communities being covered.
Gallery: photographs from the event.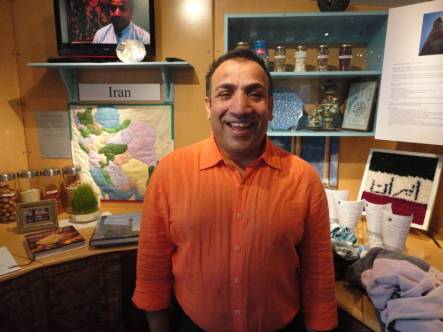 Farahmand Kamali at the Iranian Kitchen display.
4:06 The Panel