Afternoons with Jesse Mulligan for Thursday 21 July 2011
Presented by Simon Pound
Over the last four years Simon Pound has reported for and helped produce non-commercial television for TVNZ7. He worked for Media7, The Ad Show and fronted the TED talk series. Recently he has been working as a producer, helping make the Smokefreerockquest TV show. Simon is a regular contributor to Radio New Zealand National's Panel on Afternoons with Jim Mora.
He modestly says that he "writes a few things around the place" and works as a freelance copywriter.
Outside of media Simon is partner in a fashion label and is a very happy father to twins.
1:10 Best Song Ever Written
1:15 Your Place - Moeraki
With hosts Gloria Colloty, Fleur Sullivan and Bill Pile.
2:10 This Way Up - Ear Wax
We find out what earwax is, why we secrete it, and some of the ways to get rid of it. With Libby Cossar of the Hearing Association.
2:30 NZ Reading: The Madonna In The Suitcase, written and read by Huberta Hellendoorn
The challenges and rewards a Dutch New Zealand family experience in caring for a daughter with Down's Syndrome.
2:45 Feature Album
Sometimes I Wish We Were an Eagle by Bill Callahan.
3:12 Arts Report
An old, run-down navy base has become the perfect setting for a community of artists on Wellington's coastline.
3:33 Southern story - REAP Marlborough Roadshow
It's good to grow your own food, and if it's on the hoof you're going to need to know more than most about how to get it to the oven.
At a Rural Education Activities Programme (REAP) in the Wairau Valley, Marlborough, Sage Forest finds a fascination for artfully cleaving carcasses, and a small community making the most of a chance to come together.
There are 13 REAP organisations around NZ, each with it's own style. The community can ask for specific workshops, or REAP employees make suggestions. Early childhood, schools and adult community education are the 3 focus areas. Courses in towns are self-funding, and rural roadshows largely government funded.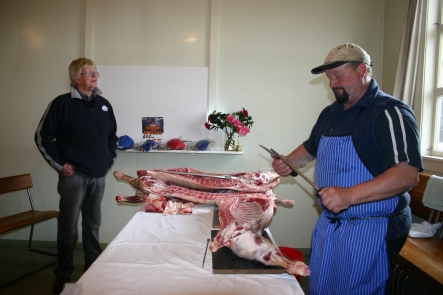 Bruce Nicholas prepares to demonstrate the butchers' prowess with Angela Woolf's lambs in a Home Butchery workshop, while REAP Marlborough manager Allan Thomas regards the rural rain.
3:40 Our Changing World
Warren Tate and members of his lab are looking at a small protein fragment as a possible therapeutic for Alzheimer's disease.
4:06 The Panel
Bernard Hickey and Tony Doe.