Afternoons with Jesse Mulligan for Friday 3 June 2011
1:10 Best Song Ever Written
How Deep is the Ocean by Ella Fitzgerald, chosen by Dave Smith.
1:15 NZ Music - Tiny Ruins aka Hollie Fullbrook
Tiny Ruins aka Hollie Fullbrook , a singer songwriter whose just released a debut album, Some Were Meant For Sea.
Audio of NZ Music Live can be found on our music web page.
2:10 Feature stories
Some Melbourne students have built a robot which can solve Rubik's Cube in just over 10 seconds - a world record. Robot Ruby can unscramble the puzzle in 10.69 seconds, far faster than the previous record-holder, the Cubinator, which solved it in just over 18 seconds. Jim Mora talks with Chris Pilgrim, deputy dean of the Faculty of Information and Communication Technologies at Swinburne University of Technology in Melbourne.
The Gold Guitars are the Grammy's of New Zealand country music, and they're presented as always, this Queen's Birthday weekend. They kicked off last night with the songwriters awards, and they'll be gearing up for a packed house for the big finale, the showcase concert on Sunday night. Jim talks to awards Convenor Philip Geary.
2:30 Reading
The final episode of The 10 pm Question by Kate de Goldi, read by John Leigh.
2:45 Feature album
Diva, the debut LP from Scottish singer/songwriter Annie Lennox (1992).
3:08 One Stop Shop
3:10 Fresh Fast Food - Julie Biuso
Award-winning food writer, Julie Biuso has come up with the perfect Queen's Birthday dinner dish - Lamb Abruzzi.
3:20 Weekend Wine - Yvonne Lorkin
Cheap and Cheerful: Lindemans Bin 45 Cabernet Sauvignon
Mid Price Magic: Te Mata Woodthorpe Syrah 2009
Treat Yourself: Craggy Range 'The Quarry' Gimblett Gravels Vineyard 2009
3:26 Movie Review - Noelle McCarthy
The latest movie from the X-Men franchise is out, X-Men: First Class.
3:33 NZ Society
New Zealand's strike wing was disbanded ten years ago. Since then the 17 Skyhawks have been awaiting their fate – a fate that's finally been settled. Amelia Nurse spent some time with former Air Force personnel to find out what the Skyhawks meant to them.
SKYHAWKS: The History of the RNZAF Skyhawk by Donn Sims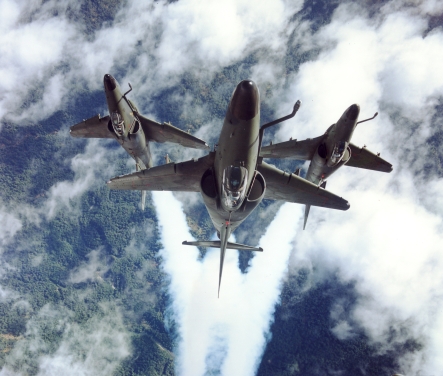 Kiwi Red aerobatic team practicing near Ohakea in 1988.
4:06 The Panel
Duncan Webb and Matt Nippert.