Afternoons with Jesse Mulligan for Thursday 21 April 2011
1:10 Best Song Ever Written
Today's best song nomination has come from Paul Davidson of Marlborough.
Find our more here: www.raggedbloodyheroes.com
1:15 Your Place - Wakefield, in the Tasman District
2:10 Feature stories
On Anzac Day 1916, the world's first Anzac ceremony was held on a rugged hillside overlooking the village of Tinui in the Wairarapa. Reverend Rev Basil Ashcroft erected a wooden cross on the hill. It became the first memorial in the world permanently dedicated to the Anzacs killed at Gallipoli in World War I. This year, when the Last Post is played, it will be the first Anzac day ceremony since the Historic Places Trust recognised the Tinui memorial cross with a Category 1 listing - the highest possible. Locals have been working to get their memorial a heritage listing for more than five years.
One Anzac symbol Dunedin artist Stephen Mulqueen is determined to keep going strong is the Flanders poppy. He has spoken around the world about the history and importance of symbols and how we remember the war dead. Steven has his own way of honoring soldiers killed in battle. He makes brass poppies from spent bullet casings. His medium of choice... the 303.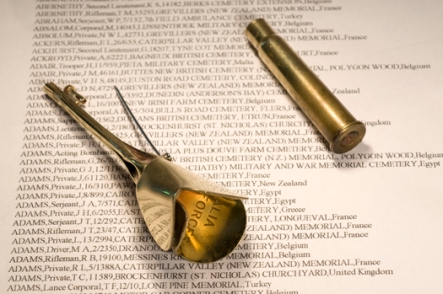 Brass poppy by Stephen Mulqueen.
2:30 Reading
Hosanna Angelica by Alison Duffy, read by Geraldine Brophy.
2:45 Feature Album
American Beauty the fifth album by American rock band, the Grateful Dead.
3:12 Arts Report
Vampires, secrets and hidden treasures… it's the world of second hand books that Warwick Jordan - owner of Hard to Find Books in Auckland, has come to know and love.
3:33 Southern story
Sydenham was badly affected by the first earthquake in September and February's quake has struck another blow to the local retail sector. But as Katy Gosset has found, shop owners say they're confident they can rebuild.
3:40 Our Changing World
4:06 The Panel