Afternoons with Jesse Mulligan for Thursday 14 April 2011
1:10 Best Song Ever Written
It's the End of the World as We Know It (And I Feel Fine) by R.E.M., as chosen by Katrina Gardiner of Christchurch.
1:15 Your Place - Huntly
Huntly locals Sandra Stewart, Mike Broster and Peter Sweetman.
2:10 Feature stories
The Harbour Restoration Group believes the dredge material from the lower Otago Harbour could be sued to build a necklace of small islands that could even be linked by bridges. Harbour Restoration Group member Peter Hayden explains
One hundred thousand honey bees are working in hives on the balcony under the clock tower in the Auckland Town Hall. Jim talks to their minder Kim Kneijber.
2:30 Reading
Part four of The Quince Café by Sue Francis, read by Sarah Peirse.
2:45 Feature Album
The self-titled debut album release by the American country music trio Lady Antebellum.
3:12 Arts Report
Lynn Freeman with an insight into the late Alistair Te Ariki Campbell being celebrated at Porirua's Pataka Museum - looking at his importance to this community and to the country.
3:33 Southern story: The Tale of a Tentmaker (and his Son)
Tent-maker Rowan Boot seems to have created a fairy-tale lifestyle in the Graham Valley, inland from Motueka. Since he was a child he's enjoyed sewing tents. When he moved to the valley he made a tipi for his impending family, and found a good market for them. Now yurts are more a more popular structure - he's just moved in to one and is making another to order.
Ten-year-old Zephyr says living in the yurt is 'awesome'. He's proud of his dad's work and is showing interest in the business. He's already a competent sewer and has just been given the welder he's wanted since he was 7.
But business is business, and Rowan is working towards obtaining codes of compliance for his structures.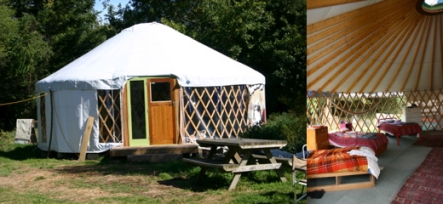 3:40 Our Changing World
Department of Conservation ranger Peter Russell, who looks after the regenerating forest on Matiu/Somes Island in the middle of Wellington Harbour. Alison Ballance joins him on a walk around the island as he shares some of his thoughts on what constitutes a weed.
4:06 The Panel
Linda Clark and Neil Miller.