Afternoons with Jesse Mulligan for Thursday 10 March 2011
1:10 Best Song Ever Written
Take a Giant Step Outside Your Mind by Taj Mahal as chosen by Jeanette Paine of Auckland.
1:15 Your Place
Matata, in the Bay of Plenty. Population 750.
2:10 Feature stories
The oldest Space Shuttle in the US fleet has landed back on Earth for the last time. Discovery is now headed for retirement as the most-flown spacecraft in history, doing more than 148 million miles in 39 missions since the first one in 1984.
Sport and recreation New Zealand will today anounce which city has made the shortlist to host a New Zealand Cycling centre of excellence. The people behind the Palmerston North bid think they have a million reasons why their city should be on the list. A mystery donor is giving Palmerston North a million dollars towards their proposal for a $24 million dollar facility, including a covered velodrome, with courts in the centre of the track, BMX and mountain-biking tracks.
2:30 Festival Review: Martha Wainwright
Providing critical commentary on the of the Auckland Arts Festival.
2:50 Feature Album
Three Dog Night, by American rock band Three Dog Night, released in 1968.
3:33 Arts Report
Lynn Freeman with a story about Christchurch writer, art curator and now TV host Justin Paton (below) turning his award-winning book How to Look at a Painting into a TV series.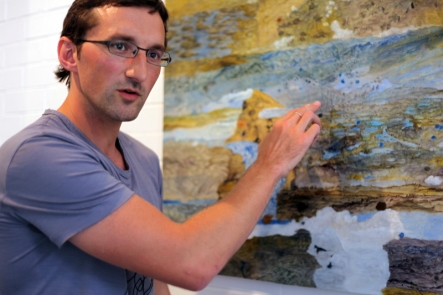 3:45 Southern story
Sumner is one of the areas worst affected by the 22 February earthquake, and Sumner is where Christchurch features producer, Katy Gosset lives. This is her latest snapshot of where her suburb is at.
4:06 The Panel
Bernard Hickey and Tino Pereira.