Afternoons with Jesse Mulligan for Tuesday 9 November 2010
1:10 Best Song Ever Written
Elusive Butterfly of Love sung by Bob Lind as chosen by Terry Patterson of Auckland.
1:15 Critical Mass
Ele Ludemann's been following the blogs of a couple of Australian academics who question whether humanities still have much of a place in university life.
Dunedin author Vanda Symon is back to review another couple of books, a new NZ crime novel and a long-awaited biography of Roald Dahl.
Nick Atkinson has new music, and watching the box is journalist, and now TV producer of Media 7, Phil Wallington.
2:10 Feature Stories
After three decades of collecting historic documents and books, Des Schollum has decided to part with some of his treasures. Later this month, he'll sell a signed copy of Hitler's Mein Kampf, a Beatles autograph signed by all four members when they were in Auckland, and a page of notes written by Katherine Mansfield as she travelled to Cornwall for TB treatments.
Since 1918, children in the Palmerston North area have looked forward to visiting the Santa Cave. The tradition started at the Collinson and Cunningham department store. When that store was sold to Farmers, they carried on the tinsel-laced display of what goes on at the North Pole. But earlier this year, Farmers moved to a new location and dismantled the cave and its treasures. Te Manawa Museum has taken over the beloved treasures that have captivated generations of Manawatu families, including a clockwork Santa that dates back to 1935.

Santa's Cave.Image courtesy of Te Manawa Museum.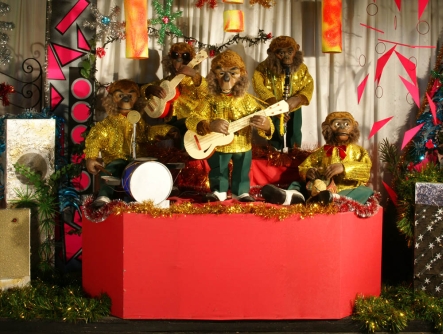 Monkey Band, an exhibit from Santa's Cave. Image courtesy of Te Manawa Museum.
2:30 Reading
Episode seven of Butler's Ringlet by Laurence Fearnley read by Matthew Chamberlain.
2:45 He Rourou
If you had to pick an iwi who are strong practitioners of te reo Maori, it would probably be Tuhoe in the Bay of Plenty. But how do those who live there think? Ana Tapiata talks to elder Hokimoana Hekerangi about her concerns for the language.
2:50 Feature Album
Neil Diamond - Hot August Night, his 1972 live double album.
3:12 Tune Your Engine
Are you a Self Destructive Denier or a Dependent Clinger? Maybe you're the know-all googler. Doctors secretly categorise us, we who sit patiently and trustingly in their waiting rooms.
Martyn Lobley is a GP in one of south east London's most challenging neighbourhoods. He is a very witty writer but with points to make as well from his time as a medical journalist. You can also read very learned and sober articles by him in The Times.
Dr Martyn Lobley has co-authored a book called Sick Notes.
Sick Notes: True Stories from the Front Lines of Medicine by Dr Tony Copperfield
Published by Monday Books
ISBN: 978-1-906308-14-8
3:33 Asian Report
Prayas in Hindi is a word, derived from Sanskrit, meaning "endeavour" and the group's aims to bring Indian drama and music, to all New Zealanders.
Their most recent play Beyond the Land of, Hattamala - A tale of two thieves was performed earlier this year for their annual show. This time it's to raise funds for the Red Cross Pakistan Monsoon Floods Appeal.
4:06 The Panel
Amanda Miller and Irene Gardiner