Afternoons with Jesse Mulligan for Tuesday 7 September 2010
1:10 Best Song Ever Written
Turning Japanese by The Vapours as chose by Melissa Jane Anderson of Auckland.
1:15 Critical Mass
TV reviewer, Phil Wallington
Ele Ludemann on the web
Nick Atkinson on Silver Scroll nominees, Naked and Famous, whose debut album is out this week - and Jimmy Barnes has a new album out.
Books with Graham Beattie
Freedom by Jonathan Franzen
A Journey - Tony Blair's memoir
2:10 Feature stories
William Henry Churton was a young Auckland Volunteer soldier during the New Zealand Wars in 1863. For 19 months, he kept a diary of his experiences as a soldier, witnessing some of the violence that took place when Maori land was sold to English settlers. The diary covers nineteen months in the life of an enterprising teenager in colonial Auckland and it is going up for auction tomorrow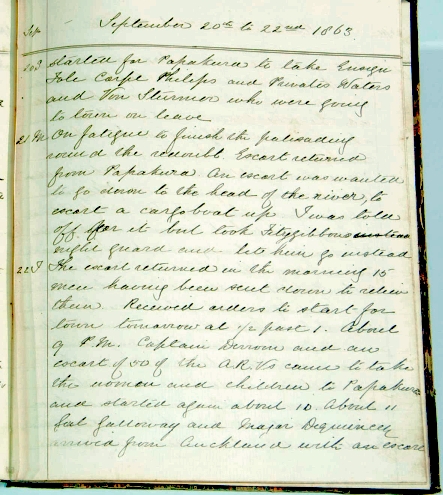 New Zealand Wars Diary estimated at $3000. See a larger version of this image.
Irv Gordon is approaching 3 million miles on the odometer on his 1966 Volvo. The red Volvo P1800 two-seater sports coupe is the pride and joy of the retired school teacher from East Patchogue New York.
2:30 Reading
The Shag Incident by Stephanie Johnson read by Jason Whyte.
Jasper is still in the hospital ward of Long Bay Jail, devastated by the death of his partner Damian when the police arrested him.
2:45 He Rourou
Pou Temara talks about the similarities and differences between karakia and waiata. Then Rahui Papa talks about the different karakia at the annual Coronation celebrations in Waikato.
2:50 Feature Album
Eldorado - A Symphony by The Electric Light Orchestra (1974)
3:12 Tune your Engine
The Pain Chronicles: Cures, Myths, Mysteries, Prayers, Diaries, Brain Scans, Healing, and the Science of Suffering by Melanie Thernstrom, an author and writer for the New York Times Magazine. She has nerve damage from osteoarthritis and pain is a constant companion. Her book is part memoir, part historical and medical exploration of the science of pain.
3:35 Asian Report
This year New Zealand Fashion Week celebrates its tenth year, and in doing so, they've created opportunities for emerging talent in all avenues of fashion. Producer Sonia Yee explores the journey of make-up artist on the rise.
4:06 The Panel
More quake questions answered with Tim Watkin and Nevil Gibson. Insurance questions mainly, but also how to pay employees when your business has no money coming in. We'll celebrate the efforts of the excellent volunteer army in and around Christchurch. How often have we said that one of our important futures is in online social networking, and its value's been seen in full force in Canterbury.