Afternoons with Jesse Mulligan for Thursday 20 May 2010
1:10 Best Song Ever Written
1:15 Your Place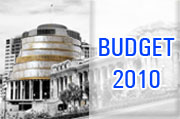 3:12 Arts Report
Now to the arts with Lynn Freeman and shortly we'll meet a sculptor whose take on femininity challenges the norm - bit first, to introduce Lynn's opening story - the unmistakable groove of Fat Freddies Drop.
3:33 Christchurch story
Now Sonia Yee meets the down-to-earth burlesque troupe 'Ayla's Angels,' who prove that real women can be sexy and glamorous.
3:47 Environment story
If you've ever gone to the doctor and had a blood or urine sample taken - have you ever wondered what actually happens to that sample? For example, how's it tested? And how are the results used to diagnose a disease?
Science producer Ruth Beran wants to find out, and goes to Aotea Pathology, a Wellington-based community pathology lab which processes approximately 3000 patients, and 10,000 tests, every day. She meets CEO Karen Wood, who takes her on a tour of the laboratory.
4:06 The Panel
Bruce Slane and David Farrar are on The Panel, and we'll have Budget analysis, especially of the tax changes and what they'll mean. And overall, is the prescription being written out - or read out - today the right one to get NZ back into the best-performing economies? Also Kevin Costner's solution for the oil spill in...Gulf of Mexico, ignoring cell calls, Mickey powhiri and more.