Das Rheingold
By Opera Australia at Arts Centre, Melbourne
Reviewed by Paul Bushnell for Upbeat, Monday 9 December 2013

Video extract from Opera Australia's production of Das Rheingold. Footage courtesy of Opera Australia.
Any production of Richard Wagner's monumental four-opera Ring Cycle is a risky business.
Can it be afforded? Even though the ticket prices are substantial ($1000 Australian in my case for a seat which doesn't have a view of the surtitles!), the scale of the endeavour means that such an event could not be undertaken by a company like Opera Australia without substantial private patronage. And this is true even though all tickets for the three run-throughs of the cycle sold out online within a few hours.
There's also the quality of the performers needed: the singers and orchestra must be capable of running what is, in musical terms, a full marathon as the cycle involves over 20 hours in the opera house, performing over 15 hours of music.
Then there's the role of the conductor in shaping this aural sprawl: giving it a sense of momentum and coherency without sacrificing the operas' frequent passages of meditative reverie.
And what, then, of the production itself? What approach is it to take? Will the visual style be traditional or contemporary, abstract or naturalistic? Spectacular, or just spectacularly ugly?
Finally, what's the director's vision? Is this a cosmic drama in which the doings of the gods play out against a background of social and historical themes, or is it at its core a domestic tragedy involving a dysfunctional family?
I can't answer some of these questions yet as I need to see the full span of the four operas to find out, but it's clear that Das Rheingold's successes are mostly related to its production.
Yes, the musical performances are competent (and pretty even throughout the very large cast), and the specially-assembled orchestra plays perfectly well under Pietari Inkinen, but there's not one moment of music in two and a half hours which moved or thrilled me. So far, not a single star voice has been heard, although Warwick Fyfe turns in the night's best performance as a real Alberich, humanising a role often portrayed as a clutch of dwarfish clichés.
Among the rest, there's a lot of intelligent acting and singing, but I wonder if there is something wrong in the casting or directing of a Ring Cycle when the Rhinemaidens overshadow Wotan. In that role, Terje Stensvold seemed stolid and elderly, rather than the energetic source of plotting and manoeuvring. That said, his diction (along with most of the cast) was exemplary, and every note could be heard.
Susan Bullock's Brunnhilde takes to the stage on Monday night in Die Walküre, so the star power may be amped up a bit for the rest of the performances, but so far it looks as though this Ring Cycle will be known as Neil Armfield's.
One of Australia's best-known theatre directors, Armfield has been responsible for a string of dazzling shows ranging from the landmark productions of Cloudstreet and Twelfth Night over thirty years ago to his substantial portfolio of international opera production today.
What marks out this Rheingold is not so much the perceptibly Australian references (Like his Twelfth Night, this opera begins on a beach), but more the intelligence and soundness of its conception of power.
Unlike the gargantuan Ring Cycle directed by Robert Lepage at New York's Metropolitan Opera – made possible by extraordinary, and extraordinarily-expensive, staging – this version opts for visual simplicity.
This setting is abstract like the Met's, but with costuming of our day rather than of the original production at Bayreuth. And so the gods are smartly-suited in contemporary style, and the giants Fasolt and Fafner are dressed like wide-boy Melbourne developers. They make their first appearance on cherrypickers, as they break through the hoarding painted with an image of the Valhalla Mansion they have created into a loading bay filled with animals cased up ready for relocation to the new home of the gods.
The action occurs in a "black box" setting, enlivened by the use of a revolve and a vast mirror. The spectacle is mostly provided by a huge group of extras and dancers who inhabit the beach setting of the opening dressed in beachwear, to reappear later as Nibelung slaves in boiler suits and caps, and finally as showgirls creating the rainbow bridge to Valhalla. Their primary-coloured ostrich-feather fans line a steep flight of stairs up which the gods walk at the opera's end, about to take possession of their ill-gotten real estate.
Although it sounds a bit odd, in fact it all hangs together persuasively because Armfield allows no-one in the audience to be taken in by Wotan's quest for power. The rainbow bridge reminds us of the tinselly attractions of Las Vegas, and Alberich's business with the magical Tarnhelm is literally reimagined as a magician's trick, complete with winking stage lights and a lady assistant.
In the world of Armfield's Ring Cycle, the power sought by Wotan is obviously an illusion, and a contemporary one at that. The raw gold on evidence in the first scene is refashioned by the Nibelheim hordes into gleaming designer boxes each containing an iphone: the criticism of present-day consumerism could hardly be more obvious.
Does it work? Sure thing. Unlike some recent director-ish versions of the Ring Cycle, this one is firmly rooted in the music rather than simply looking like a collection of directorial whims thrown together. The deceptive nature of power is hinted at in the braggadocio of Das Rheingold's final bars, and the composer's subtle interweaving of musical motifs before then, and Armfield has done a fine job of finding visual metaphors for such themes which resonate with today's audiences.
The only false note was the costuming of the Rhinemaidens as Las Vegas showgirls. I don't know what that's about, given that they first appear in the company of board shorts and bikinis worn by the extras on the Rhine beach. Wouldn't Esther Williams lookalikes have made more sense? It's true, too, that there's not been much emotional depth on display so far – but the complex power play and shifting alliances of Das Rheingold has less to offer of this than the Walküre to come on Monday night.
Given the smaller key cast, the simpler plot, and the tighter focus of that opera, I'll be hoping that the emotional power of this Ring Cycle may come to match its intellect. So far, the brain has certainly been engaged, but not the heart.

Video extract from Opera Australia's production of Das Rheingold. Footage courtesy of Opera Australia.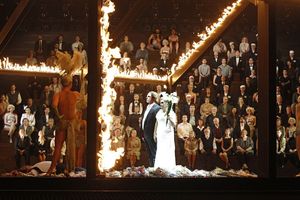 Siegfried and Brünnhilde in the Immolation scene. Photograph by Jeff Busby.
Opera Australia's Ring Cycle reviewed by Paul Bushnell for Upbeat.
Image Galleries