Skyscraper Stan and the Commission Flats by  Hania Glapa.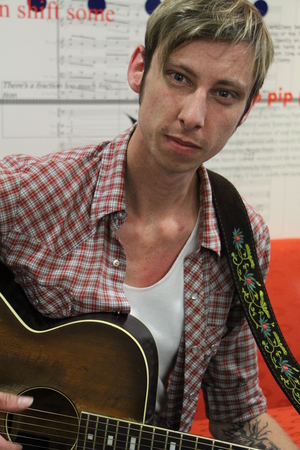 Stan Woodhouse left Auckland as a 21 year old and headed to Melbourne to finish his Bachelor of Science in biology.
Along the way the talented guitarist and song writer got seduced by the city's busy music scene, as so many other kiwis have.
Before long he had a band named after his long legs, literally: Skyscraper Stan and the Commission Flats.
But it's a hard life working in bars to pay the rent even when you live in the seediest part of Fitzroy.
Stan gave it all away for a bit and travelled around the USA where the sounds of Louisiana rejuvenated his love of folk music.
Back in Melbourne Skyscraper Stan and the Commission Flats reformed and has recently recorded an album which is being releasing on Soundcloud single by single, keeping the band's many fans hooked.
Stan Woodhouse brought his guitar in to the Upbeat studio to play for Eva Radich.
Photo of Stan Woodhouse in the Radio New Zealand Auckland studio by RNZ/Dru Faulkner.