The Critic's Chair series ended in March 2015.
This week Cynthia Morahan is transported to France with tenor Juan Diego Florez's latest album L'amour. She also features piano works by Haydn, Mozart and Beethoven that were all composed in 1789; and introduces us to the eight-cello ensemble Cellophony. She starts with a recent recording of Mendelssohn's Symphony No 2, Lobegesang played by the Bavarian Radio Symphony and Choir, conducted by Pablo Heras-Casado.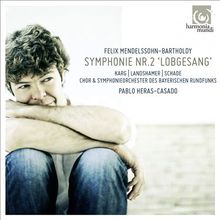 MENDELSSOHN: Symphony No 2, Lobgesang
Bavarian Radio Symphony Orch and Choir/Pablo Heras-Casado
(Harmonia Mundi 90 2151)

Conductor Pablo Heras-Casado is often referred to as "young" or "a young maverick" – he may be only 36, but he's a few years older than Mendelssohn was when he wrote the Hymn of Praise. Heras-Casado has put together a deeply moving interpretation of this work, and pulls inspired performances from orchestra, choir and soloist.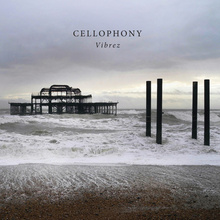 Vibrez
Cellophony
(Edition Classics EDN 1047)

The eight cellists in Cellophony are graduates of the Guildhall School of Music, all around the age of 30.This album comfortably crosses many eras, and the arrangements by their co-director Richard Birchall captured my attention. At times I forgot I was listening solely to cellos – they can sound more like a traditional ensemble rather than one made up purely of the same instrument.



Vienna 1789
Sebastian Knauer (pno), Zurich CO/Roger Norrington
(Berlin Classics BC 030 0551)

This recording features works by Haydn, Mozart and Beethoven that were all written in the year 1789. It shines a human face on these iconic composers: Haydn as a 58 year old man restrained by court requirements, Mozart's Piano Concerto No 27 the work of a 33 year old plagued by financial difficulties, and the Beethoven concerto the work of an idealistic genius about to unleash himself on an unsuspecting world.



L'amour
Juan Diego Florez (tenor), Orch Teatro Comunale di Bologna/Roberto Abbado
(Decca 478 5948)

This collection of 19th Century French arias makes me wonder why a tenor as talented as Florez waited so long to exploit the showpieces these French arias can be. His voice is in perfect form – but I prefer him on solid Bellini territory. I love his distinctive tone, but perhaps most of all I admire his ability to conjure raw emotion. And there isn't a whole ot of room for that in some of these galloping French show ponies.