The Critic's Chair series ended in March 2015.
In this week's The Critic's Chair, Erica Challis reviews Gustavo Dudamel's latest, conducting the Berlin Philharmonic in a disc of Richard Strauss tone poems, and the Freiburg Baroque Orchestra's period instrument performances of early Schubert symphonies under Pablo Heras-Casado. There's a live recording of Szymanowski's first two symphonies by the London Symphony Orchestra, and the Prague Radio Symphony Orchestra perform of some of Jánaček's mature works including the famous Sinfonietta.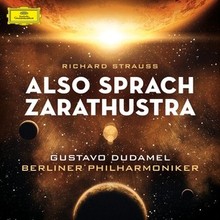 R STRAUSS: Also Sprach Zarathustra; Til Eulenspiegel;Don Juan
Berlin Phil/Gustavo Dudamel
(DG 479 1041)

It would be difficult to think of a better pairing for this repertoire. Dudamel absolutely shines in these big romantic works, and the Berlin Philharmonic players know the style intimately, and have the highly civilised, burnished sound for it. It's a really gorgeous recording.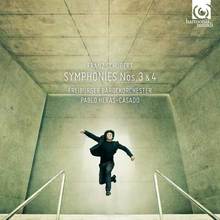 SCHUBERT: Symphonies Nos 3 & 4
Freiburg Baroque Orch/Pablo Heras-Casado
(Harmonia Mundi 902154)

This is a somewhat fevered account of Schubert's 3rd and 4th symphonies from the Freiburg Baroque Orchestra. It's a recording that points up a lot of details you might not hear in other recordings and of course the early instruments sound is always interesting for comparison. But overall I found it overheated and got tired of it.




SZYMANOWSKI: Symphonies Nos 1 & 2
London SO/Valery Gergiev
(LSO Live 0731)

A wonderful live recording of Szymanowski's 1st and 2nd symphonies from the superb London Symphony Orchestra under Valery Gergiev. They're big, active works, and the LSO tackle their challenges fearlessly.  Gergiev leads the orchestra in a strongly moulded performance that keeps things moving forwards no matter how much the music seems to be wandering around chromatically.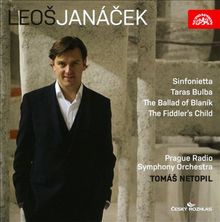 JANÁČEK: Sinfonietta; Taras Bulba; The Ballad of Blaník; The Fiddler's Child
Prague Radio SO/Tomas Netopil
(Supraphon 4131)

This is a great disc of Janáček's mature orchestral works which features some of the rarely-heard tone poems like The Fiddler's Child alongside his well-known Sinfonietta. While the Prague Radio Symphony Orchestra doesn't achieve the near-perfection heard in the London Symphony or Berlin Philharmonic recordings, these are warm, committed performances beautifully recorded in fine detail.