The Critic's Chair series ended in March 2015.
This week on The Critic's Chair, Robert Johnson reviews violinist Janine Jansen's new recording of Schubert and Schoenberg. He gives us his take on Britten's music for string ensemble, and the Detroit Symphony's latest offering of Copland. You'll also hear Szymanowski's setting of the iconic Stabat Mater text, performed by the BBC Symphony Chorus and Orchestra.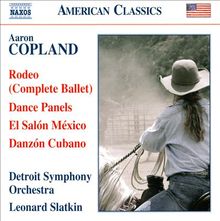 COPLAND: Rodeo; Dance Panels; El Salón México; Danzón Cubano
Detroit SO/Leonard Slatkin
(Naxos 8.559758)

In this recording the Detroit Symphony Orchestra shows that it still ranks with America's best. The performance of El Salón México doesn't quell my fondness for Leonard Bernstein's classic recording with the New York Philharmonic, but I doubt that any performance could. Overall the performances are among the very best in this repertoire, and the recording is superb.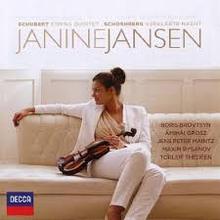 SCHUBERT: String Quintet; SCHOENBERG: Verklärte Nacht
Janine Jansen, Boris Brovtsyn (vlns), Amihai Grosz, Maxim Rysanov (vlas), Torleif Thedéen, Jens Peter Maintz (cellos)
(Decca 478 3551)

Janine Jansen has always maintained a strong interest in chamber music side by side with her solo career. It's remarkable how well this group of soloists meshes together and plays with such crisp ensemble, almost as though they'd been playing together for years. Some listeners may find the performance of Verklärte Nacht excessive at times, but in this of all works I enjoyed the unusual degree of passionate intensity.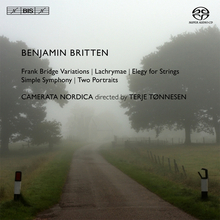 BRITTEN: Variations on a Theme of Frank Bridge; Lachrymae; Simple Symphony; Two Portraits;
Elegy
Catherine Bullock (vla), Camerata Nordica/Terje Tønnesen,
(BIS 2060)

The virtuosity of this ensemble is so remarkable that it's almost like hearing a first-class string quartet, amplified. These are wonderfully characterised performances, and I highly recommend this disc to anyone who already loves Britten's music or has an interest in brilliant string ensemble playing.


SZYMANOWSKI: Stabat Mater; Harnasie
Lucy Crowe (sop), Pamela Helen Stephen (mezzo), Robert Murray (tenor), Gábor Bretz (bar), BBC Symphony Chorus and Orch/Edward Gardner.
(Chandos CHSA 10791)

There's a slightly raw, sensual quality to this new performance of the ballet Harnasie that I find particularly appealing. The performance of Szymanowski's choral masterpiece, the Stabat Mater, features an outstanding line-up of soloists. There has never been such a sensual setting of this iconic text, and these robust and clear-headed performances are enhanced by a recording of the highest quality.