The Critic's Chair series ended in March 2015.
This week Peter Mechen sits in The Critic's Chair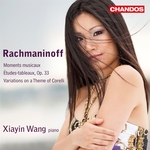 RACHMANINOV: Moments musicaux Op 16; Etudes-tableaux Op 33; Corelli Variations Op 42
Xiayin Wang (pno)
(Chandos CHAN 10724)

From pianist Xiayin Wang, comes a valuable anthology of Rachmaninov's piano music from different stages of his compositional career; three sets of pieces whose qualities invite and fully deserve attention. The early Moment Musicaux Op.16 easily hold their own against both the Op.33 set of Etude-Tableaux, and the last work for solo piano Rachmaninov wrote, the Variations on a theme of Corelli. The beautiful pianism is nicely caught by Chandos's excellent recording.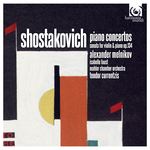 SHOSTAKOVICH: Piano Concerto No 2 in F Op 102; Violin Sonata Op 134; Piano Concerto No 1 in C minor for piano, trumpet & strings Op 35
Alexander Melnikov (pno), Jeroen Berwaerts (tpt), Isabelle Faust (vln), Mahler CO/Teodor Currentzis
(Harmonia Mundi HMC 90 2104)

Alexander Melnikov presents a wonderful Shostakovich concert featuring music of extremes.  His witty, affectionate readings of both of the composer's Piano Concerti, ably supported by the Mahler Chamber Orchestra directed by Teodor Currentzis are counterbalanced by a darkly intense rendition of the Violin Sonata with Isabelle Faust. Together, both concerti and the Sonata give the listener a genuinely diverse Shostakovich listening experience.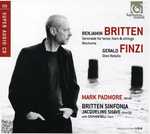 BRITTEN: Serenade for tenor, horn & strings Op 31; Nocturne Op 60; FINZI: Dies natalis Op 8
Mark Padmore (ten), Britten Sinfonia/Jacqueline Shave
(Harmonia Mundi HMU 80 7552)

Tenor Mark Padmore takes the mantle of the illustrious Peter Pears in this two-composer collection of English song-cycles.  Two of Benjamin Britten's most famous works, the Serenade for Tenor, Horn and Strings, and the Nocturne for strings and seven obbligato instruments share the disc with music from a contemporary, Gerald Finzi, the latter's song-cycle Dies Natalis. Though more at home with the rhapsodic lyricism of Finzi's soaring lines, Mark Padmore, with the Britten Sinfonia and its director Jacqueline Shave brings both Britten works to life with detailed and finely-wrought singing and playing.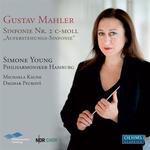 Mahler: Symphony No 2 in C minor, Resurrection
Michaela Kaune (sop), Dagmar Pecková (alto), North German Radio Chorus, State Choir Latvija, Hamburg Phil/Simone Young
(Oehms OC 412)

Here's a symphonic blockbuster from conductor Simone Young with her own orchestra, the Hamburg Philharmonic, playing the Resurrection Symphony of Gustav Mahler. Young, the orchestra and soloists Michaela Kaune and Dagmar Peckova take no prisoners in this intensely-exciting and sharply-focused performance, one which emphasizes cut-and thrust drama more than epic grandeur. The choral singing, uncertain in one or two places, comes into its own to thrilling effect over the last few massive pages of the work's finale.