The Critic's Chair series ended in March 2015.
Robert Johnson returns to The Critic's Chair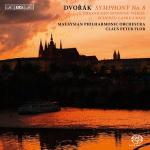 DVOŘÁK: Symphony No.8; The Golden Spinning Wheel; Scherzo capriccioso – Malaysian Philharmonic Orchestra conducted by Claus Peter Flor.
(BIS-SACD-1976)
Energy, dramatic strength and imaginative phrasing characterise these performances. This is some of the finest playing I've heard in any Dvořák symphony and the engineering is outstanding.
"Release – The Mozart Fellowship" (Carr/Ritchie/Elmsly/Watson/Marshall/Adams/Rimmer/McDonald/Pruden) – La Belle Alliance (Tessa Petersen violin; John van Buskirk, piano).
(Ode CD MANU 5141)
Dedicated and accomplished performances of music for violin and piano by a diverse group of composers who have all been Mozart Fellows at the University of Otago.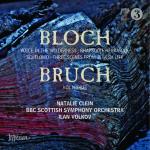 BLOCH: Schelomo; Voice in the Wilderness; From Jewish Life / Bruch: Kol Nidrei – Natalie Clein (cello), BBC Scottish Symphony Orchestra conducted by Ilan Volkov.
(Hyperion CDA67910)
Impassioned but not overstated, these are among the finest performances I've heard of these works. This would now be my first choice for a modern recording of Schelomo.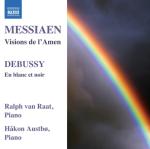 MESSIAEN: Visions de l'Amen / DEBUSSY: En blanc et noir – Ralph van Raat & Håkon Austbø (pianos).
(Naxos 8.572472)
Unusually vehement performances of music composed in time of war. Not, perhaps, the ultimate recording of either work, but it's certainly worth hearing, particularly at the price being asked.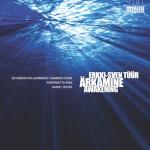 TÜÜR: Awakening; The Wanderer's Evening Song; Insula deserta – Estonian Philharmonic Chamber Choir, Sinfonietta Riga, conducted by Daniel Reuss.
(Ondine ODE 1183-2)
Awakening is an approachable and deeply moving work given a performance of the utmost intensity and technical perfection by this extraordinary choir and Sinfonietta Riga.