The Critic's Chair series ended in March 2015.
This week Thomas Goss is in The Critic's Chair
BACH: St John Passion BWV245
Les Voix Baroques, Arion Baroque Orchestra/Alexander Weimann
(Atma ACD 2 2611)
Les Voix Baroques and the Arion Baroque Orchestra have teamed up to resurrect the spirit of the 1723 premiere. Baroque specialist conductor Alexander Weimann is inspired in his conception, and he's aided by brilliant performances from his leads. If there's a fly in the ointment, it's in some of the arias by supporting singers. Les Voix Baroques have spread the solo duties amongst each section, with uneven results.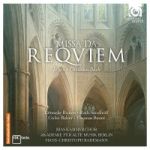 JC BACH: Missa da requiem; Miserere
Lenneke Ruiten (sop), Ruth Sandhoff (contralto), Colin Balzer (ten), Thomas Bauer (bass), Akademie fru Alte Musik Berlin, RIAS Chamber Choir/Hans-Christoph Rademann
(Harmonia Mundi HMC 90 2098)
J.C. Bach's Requiem Mass, with the RIAS Chamber Choir accompanied by the Berlin Academy of Ancient Music with Hans-Christoph Rademann on the podium. Rademann has an engaging, hands-on approach that keeps the energy up and the phrases vibrant. There's nothing ancient about this music. It sounds new and vital, and you can feel the uplift of a wunderkind composer coming into his own with confidence.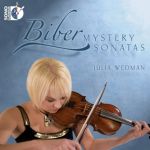 BIBER: Mystery (Rosary) Sonatas
Julia Wedman (vn), Felix Deak (vc), Julia Seager Scott (hp), Lucas Harris (theo), Charlotte Nediger (org).
(Sono Luminus DSL 92127)
There's no question that Julia Wedman has really done something exceptional with this recording. Her level of scholarship, imagination, and raw talent are only the beginning. How she brings each of these remarkable resources to bear with wit, sensitivity, and transcendent virtuosity makes this one of the best discs of early music released in 2011, and one of the finest solo debuts ever. If you agree, you might want to look for this masterful audio document at your local record shop.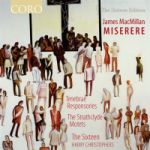 MacMillan: Miserere; Tenebrae Responsories; The Strathclyde Motets
The Sixteen/Harry Christophers
(Coro COR 16096)
Here's one of those happy collaborations in which composer and ensemble are well-matched, and help each other to realize their mutual artistic goals. The Sixteen put everything they've got into these tracks, rewarding the hard work and inspiration with which MacMillan forged each score. The results are a disc that's so much more than just a collection of sacred choral music. If you have a taste for the best possible performers in their genre doing justice to arguably the best living composer in their genre, then this is the CD for you.