The Critic's Chair series ended in March 2015.
Presented by Roger Wilson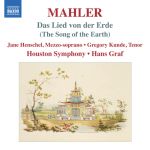 MAHLER: Das Lied von der Erde
Jane Henschel, Gregory Kunde, Houston Symphony Orchestra/Hans Graf
(Naxos 8.572498)

Austrian conductor Hans Graf, who has been closely associated with the Houston Symphony since 2000, has a high reputation as a Mozartian and this shows in his Mahler performance. The sound of the HSO isn't a particularly sumptuous one, but it has a wonderful clarity and continually you notice small details overlooked before.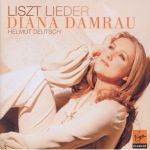 LISZT: Lieder
Diana Damrau (sop), Helmut Deutsch (pno)
(Virgin Classics 0 709280)

German soprano Diana Damrau and the excellent pianist Helmut Deutsch have made a recital disc of 19 Liszt songs, including most of the better known ones. She's a most remarkable singer. In the Liszt songs she shows dramatic power and brilliance where called for, but she also has a warm, clear lyricism with a strength in her middle and lower range. Her singing of her native German has an exemplary clarity which shows a deep poetic understanding but her Italian leaves nothing to be desired either.


VIVALDI:  'Arie per tenore'
Topi Lehtipuu (ten), Chorus of Radiotelevisione Svizzera; I barrochisti / Diego Fasolis
(Naïve OP 30 504)

Australian-born Finnish tenor Topi Lehtipuu makes his CD début and he's a real find. Lehtipuu is light and agile enough vocally to handle Vivaldi's florid music, and is also vigorous and virile of tone. This is a spirited recording of most agreeable music.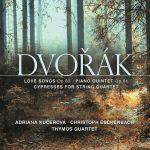 DVORAK: Love Songs Op 83; Cypresses
Adriana Kučerová (sop), Christoph Eschenbach (pno), Thymos Quartet
(Avie AV 2234)

Czech soprano  Kučerová is right at home [...] and sings with a most engaging straight-forwardness and consistent freshness of tone.  Eschenbach and the Quatuor Thymos live dangerously in the quintet with both faster and slower tempi than is customary. The result is an exhilaratingly mettlesome performance. This is a most charming and beautifully devised recording which no Dvořák enthusiast will want to be without.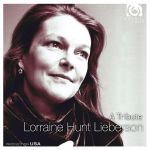 Lorraine Hunt Lieberson, A Tribute
HANDEL, PURCELL, BACH
Lorraine Hunt Lieberson (mezzo), Freiburg Baroque Orchestra, Philharmonia Baroque Orchestra/Nicholas McGegan
(Harmonia Mundi HMU 90 7471/72)

To mark the 5th anniversary of her death and commemorate her association with them, Harmonia Mundi has issued A Tribute, a 2 CD anthology of some of her finest recordings.  From the memoirs of colleagues and critics it's clear that she was a singer and actress who touched her audience's hearts as few could do. She was a powerful singer, technically skilled with flawless intonation, a radiant sound and a sure sense of style.