Programme Eight: 23 December 2014
Resound Broadcasts 2014 - Programme Eight
Jack Body: Poems of Solitary Delights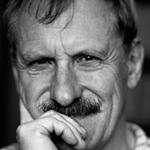 Jack Body's music covers almost all genres, including solo and chamber music, orchestral music, music-theatre, music for dance and film as well as electroacoustic music. A fascination with the music and cultures of Asia, particularly Indonesia, has been a strong influence. He has been commissioned by the Auckland Philharmonia, NZ String Quartet, NZSO, BBC Scottish Orchestra and many other groups, and has written three works for the Kronos Quartet.

In 1999 he was awarded an OMNZ for his services to music, and in 2004 he was honoured by the Arts Foundation of NZ as a laureate. Jack has been a passionate advocate for NZ music, beginning with the early Sonic Circus in Wellington in the 1960s, and has since organised three Asia Pacific Festivals in New Zealand featuring the contemporary and traditional music of New Zealand and her Asian neighbours. He has also been the editor of Waiteata Music Press since 1980.

Poems of Solitary Delights was composed in 1985, and is a setting of a cycle of poems by nineteenth century Japanese poet Tachibana Akemi. This recording is from 1986, and features the NZSO conducted by John Hopkins.
Dylan Lardelli: Bas
Dylan Lardelli holds a Bachelors degree in Guitar performance and a Masters degree in Composition from Victoria University of Wellington. He has studied with Stefano Bellon in Venice, and from 2009-2010 held a DAAD stipend to work with Dieter Mack at the Lubeck Musikhochscule in Germany. His works have been commissioned and performed by musicians around the world. In 2009 he participated in the World Music Days festival in Beijing, where his piece Musical Box for Taonga Puroro and ensemble was premiered.

Bas takes its title from the early classification of instruments with a subdued nature. The work draws on composition techniques from the middle ages, and explores a variety of tone colours available on the instruments.

This recording is from a 175 East concert in 2004, and features flutist Ingrid Culliford, clarinettists Gretchen La Roche and Andrew Uren, and cellist Katherine Hebly.
Robin Toan: Witch Scarers
Robin Toan has had multiple works performed in Oceania, Asia, Europe and America by leading ensembles and soloists. She has received awards in composition competitions both in New Zealand and internationally. At 30, she has been a resident composer on two occasions, and received a number of commissions. She has a Bachelor of Music with First-Class Honours from the University of Auckland, where she studied with John Elmsly and Eve de Castro-Robinson. She went on to do her Master of Music under the supervision of John Psathas at the NZSM. In 2007 Robin travelled to Europe to further her studies in composition with the support of the Edwin Carr Foundation Scholarship.

In Toan's programme note to Witch Scarers she says "I am a great admirer of Antoni Gaudi's creations and enjoys translating his designs into music. The witch-scarers have magnificent presence and I have revelled in making sounds that capture their terrifying nature, strength and unique shapes."
Lyell Cresswell: Threnody for Mrs S who drowned at her baptism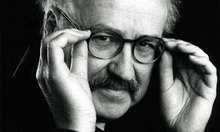 Lyell Cresswell was born in Wellington, and since 1985 has been a full-time composer based in Edinburgh. He has reccieved an APRA Silver Scroll for his contribution to New Zealand music, and his works have been recommended by the UNESCO International Rostrum of Composers three times. More recently, Cresswell has been the New Zealand School of Music Composer in Residence. He has been a featured composer at many festivals around the world.

Threnody for Mrs who drowned at her baptism was written in 1971 while Lyell was working in Dunedin as a postman (according to Lyell this was the only 'real' job he has had!). It is based on a true story - the text is drawn from a newspaper report and has been embellished slightly.