Programme Four: 25 November 2014
Resound Broadcasts 2014 - Programme Four
Lissa Meridan

:

blast
Lissa Meridan (b.1972) is a New Zealand composer and sound artist. Her works include an eclectic mix of orchestral, chamber, vocal, film score, electroacoustic, gallery installations, and live electronics. She has a particular interest in early film, and the relationships that can be created between sound and image, in particular with the addition of a live performer. She has been commissioned to write works for the Viola Congress in Montreal, and Festival Synthese in France. In 2007 she took part in a collaborative project between the NZ Film Archive and CCMIX in Paris, to compose and perform soundtracks to a collection of 14 historic French films at the MusiPoesi Festival.

Her work blast was commissioned by the Auckland Philharmonia Orchestra in 2003, as part of their NZ composer "snapshot" series. It explores the detail of an explosive event, with one attack, decay, sustain and release. You will hear the explosive event, out of which many microscopic pieces take flight, dissolving into silence by the end.
Ian McDonald

: Moment for Violin and Piano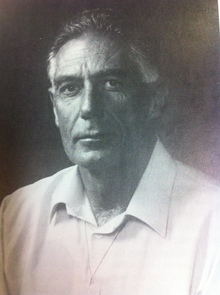 Ian McDonald was born in 1937 in Wellington, and graduated from Victoria University of Wellington with a Master of Music. Since then he has worked as a freelance composer, writing avant-garde, electronic and computer music. He was a founding member of the Composers' Association of New Zealand, and was the Mozart Fellow at Otago University in 1978 and 1979.

Moment for Violin and Piano was written during his time as a Mozart Fellow. It started as a piece for a production of an R.A.K Mason play "Strait is the Gate". In the play, the tune was the musical vehicle for the heroine's tender and enduring love for her man. Ian McDonald dedicated the work to the playright, Mason. He said of his composition:

"I've tried to write something which he [Mason] might have understood or liked. It's derivative of British music; but the harmony, counterpoint and voice leading are rudimentary…it's a style of music that might be likened to the architectural style of a pioneer's cottage built from whatever materials were at hand."
Chris Watson: Derailleurs
Chris Watson is a Wellington-based composer and videographer, and the Project Manager of Resound. Chris graduated from Victoria University of Wellington with a PhD in composition, where he studied with Ross Harris and Dugal McKinnon. His thesis investigated the effects of music notation software on compositional practices and outcomes.

The derailleur is the part of a bike that knocks the chain from one chain-ring to another, to move to a higher or lower gear. He found that this action was comparable in music to metric modulation - a change of tempo derived from the note values before the change.

The work was premiered at the Nelson Composers Workshop in 2001, and was awarded First Prize in the Young Composers Competition at the 2002 Asian Composers League in Seoul, Korea. This recording features performers from Stroma, and is from the first concert performance of the work in 2003. It is scored for flute, guitar, percussion, cello, and piano.
Ross Harris: The Floating Bride, the Crimson Village
Ross Harris is one of New Zealand's leading composers, with over 200 works to his name: orchestral, chamber, opera, klezmer, and electronic music to name a few. He's been a finalist in the SOUNZ Contemporary Award eight times in 13 years, and has won the award four times.

The song cycle The Floating Bride, The Crimson Village was written as part of Ross' residency at the New Zealand School of Music in 2008. A casual conversation with writer Vincent O'Sullivan led to him write fifteen poems inspired by the paintings of Marc Chagall. Ross set eleven of these for performance at the Adam Chamber Music Festival in Nelson 2009. While the original is for voice and piano, he always had in mind orchestral sounds for the accompaniment.

This orchestrated version was performed by the New Zealand Symphony Orchestra, conducted by Tecwyn Evans, in 2010. The soprano soloist is Jenny Wollerman.