Programme 8: 10 December 2013
Resound Broadcasts 2013 - Programme Eight
(scroll down for audio)
Leonie Holmes: For Young Nick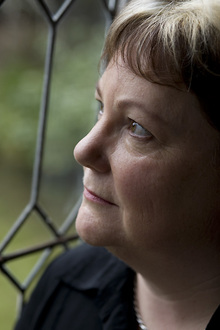 Leonie Holmes is a lecturer in Composition and Music Studies at the University of Auckland. She has written works for orchestra, chamber, choral, vocal and solo instruments, and receives frequent commissions from both professional and community groups.

Her orchestral work For Young Nick was composed in 2002. It was commissioned by Uwe Grodd and the Manukau City Symphony Orchestra, with Creative Communities funding. The title refers to Young Nick's Head on the East Coast of New Zealand. Holmes says in her programme note that she wondered about the life of the real 'Young Nick,' who first sighted New Zealand from the deck of the ship Endeavour.

This recording was made during the Auckland Philharmonia Composers' Workshops in 2002. The Auckland Philharmonia Orchestra is conducted by Miguel Harth-Bedoya.
Martin Lodge: Violin Sonata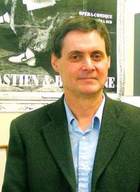 Martin Lodge is a lecturer at the University of Waikato, and his biography states that his music is "imbued with the sounds of nature, traditional Maori instrumental sounds and chant, rock music, and computers, as well as the Western classical mainstream." He also has an MA in English literature, and for many years has both composed professionally and published his research into New Zealand Music.

His Resound work is a Violin Sonata.  Written in 1997, it was commissioned by the Hamilton Chamber Music Society, for their 50th Anniversary Celebrations in 1998. This recording is from that year; from a concert at Hamilton's Founder's Theatre. It features two members of the Turnovsky Trio: violinist Sam Konise, and pianist Catherine MacKay.
Chris Cree Brown: Black and White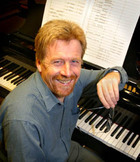 Chris Cree Brown is an Associate Professor at the School of Music, University of Canterbury. His main interests include conventional instrumental composition, electroacoustic and computer music, and inter-media art. He has twice been awarded the Mozart Fellowship at the University of Otago, has twice been appointed Composer-in-Schools, and has written a number of film scores.

Chris was awarded the KBB/CANZ citation for services to New Zealand Music in 2010. His work has been performed in many countries, including Australia, England, Finland, Hungary, France, Germany, Canada, Portugal, Russia, Scotland, and the United States.

Black and White is a work he wrote for the 1987 Sonic Circus event in Wellington. It includes pre-taped audio, and is a protest and documentary work concerning the 1981 Springbok rugby tour of New Zealand. In this live recording from 1987, the NZSO is conducted by Francisco Feliciano.