Monday, 27 July 2015
Amici Ensemble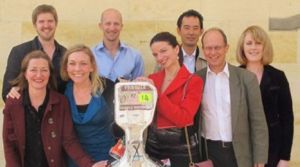 The Amici Ensemble has been part of the New Zealand music scene for more than 25 years. Leader, Donald Armstrong is the Associate Concert Master of the New Zealand Symphony Orchestra. And that's where most of Amici's players come from, joined occasionally by other leading chamber musicians from around the country.
This concert features works for string octet recorded last year during the Wellington Chamber Music Trust's Sunday series at St Andrew's on the Terrace. All three works date from early in their composer's careers – Shostakovich's Two Pieces for String Octet from his late teens, George Enescu's Octet from his student years, and the concert ends with the sixteen year-old Felix Mendelssohn's Octet in E flat. This is one of the best-loved chamber works of all time and has been described as the greatest chamber music party that two string quartets can have!  
Amici Ensemble: Donald Armstrong, Kristina Zelinska, Rebecca Struthers, Malavika Gopal (vlns), Andrew Thomson, Lyndsay Mountfort (vlas), Andrew Joyce, Sophie Williams (cellos)
SHOSTAKOVICH: Two Pieces for string octet Op 11; ENESCU: Octet in C Op 7; MENDELSSOHN: Octet in Eb Op 20
Recorded at St. Andrew's on the Terrace, Wellington, by Radio New Zealand